Custom Mouthguard – Sugar Land, TX
How to Protect Yourself from a Dental Emergency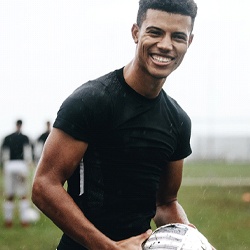 Your teeth serve several functions. Not only do they allow you to eat the foods you want and need; they also support your total facial structure. In addition, they help to maintain a healthy amount of jawbone mass by triggering new bone cells to grow. It's important, then, to care for your teeth so they can protect you in return. Take action today to prevent any mishaps by contacting us at Eco Dental to schedule a visit with either Dr. Nguyen or Dr. Hua!
Tooth Protection Options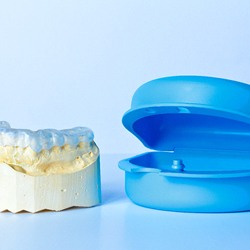 Depending on your lifestyle requirements, your dentist in Sugar Land provides three different types of mouthguards. The following explains what each variation offers.
Mouthguards for Grinding
If you suffer from teeth grinding (bruxism), you run the risk of premature enamel wear. This is significant given that your enamel can't be regenerated. Thus, its preservation should be a main priority.
In addition to treating bruxism, which can be brought on by stress, sleep disorders, a misaligned bite, acid reflux, smoking or drinking alcohol, we also provide patients with custom mouthguards to be worn at night. By taking action and visiting us at Eco Dental, you can prevent chipping, cracking and eventual tooth loss.
Nightguards for TMJ
Another issue that a custom mouthguard can offset is TMJ (temporomandibular joint) disorder, which is the painful inflammation of the complex that opens and closes the mouth. The appliance provides relief from the usual symptoms of jaw popping, locking and painful headaches that are customary with this condition.
Mouthguards for Sports
For patients involved in any type of sporting event, there is always the chance of a sudden collision. Without any protection, this can lead to a painful break or dislodged tooth. To aid in absorbing any sudden impact, we provide custom mouthguards. While there are generic versions sold at your local fitness store, they can't provide the same degree of support because they're not designed to accommodate the size and shape of your teeth. Like the bumper of your vehicle, a custom mouthguard helps to redirect stress to protect your precious ivories.
The Long-term Benefits of Mouthguards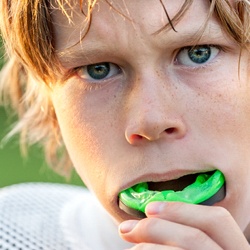 In addition to helping prevent the need for complex dental care, wearing a mouthguard allows you to keep more money in your pocket. That's because for more involved restorative procedures, the patient's required financial contribution is typically greater. It's always much easier to prevent a problem than it is to treat it, and we'll help you accomplish just that by providing you with a custom mouthguard.
Caring for Your Mouthguard
Once we've provided you with a custom mouthguard, you want to get the most longevity possible. That starts with keeping your teeth clean by brushing and flossing on a regular basis. It's also important to brush your mouthguard carefully when it's removed, and then, rinse and soak it in an antimicrobial solution such as diluted mouthwash or denture cleaner.
To receive one of our custom mouthguards in Sugar Land, and to maintain a healthy and functional smile, contact us at Eco Dental today to request a visit!