Dentures and Partials – Pearland, TX
Enjoy a Full Smile with New Dentures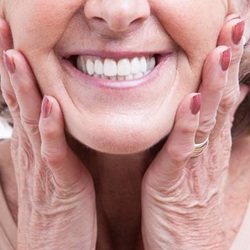 Dentists rely on dentures and partials to rebuild smiles for patients with tooth loss. The results are even more certain today thanks to advances in dental materials and technology that make these replacements perform and look better than ever before. Pearland dentists Dr. Nguyen and Dr. Hua will be glad to work with you to design dentures that restore both form and function to your smile.
Benefits of Dentures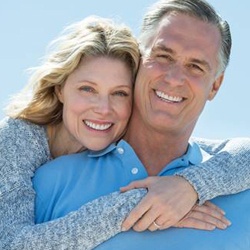 The benefits of dentures are both aesthetic and functional. All you have to do is look in the mirror to know why dentures are aesthetically essential. Just one missing tooth leaves an unsightly gap in your smile. That's usually enough to drive most people to do something.
In addition, having dentures can help you maintain a complete and healthy diet. Some people with tooth loss are forced to give up foods that are too difficult to chew, but offer needed nutrients.
In addition, just one missing tooth can increase the risk of decay in other teeth as well as gum disease. Teeth that are near the gap in your smile may shift to fill the space, too. Thus, your teeth could become misaligned and your bite may suffer. For these reasons and more, dentures are very beneficial.
Indications of Dentures
Partial Dentures
Partial dentures are made of false teeth attached to a metal frame. Brackets or clasps secure the partial to teeth near the gap. If your missing teeth are not all in a row, then the partial will be designed to fit in between your remaining teeth. A partial is removed for cleaning and to allow you to brush and floss your teeth.
Full Dentures
Your smile is unique and special. So restoring your look is what full dentures in Pearland can do. Your dentures will be designed and fabricated to fit comfortably in your mouth. However, they also will be secure, so you don't have to worry about a denture clicking when you speak or shifting when you chew.
The base of your dentures is shaded to replicate the natural color of your gums. In addition, false teeth have the shape and shine of natural teeth to replicate the appearance of your genuine smile.
Implant Retained Dentures
Implant-retained dentures need between three to six dental implants depending on whether you'll have a partial or full denture. The implants are strategically placed along your jaw where there is the most healthy bone volume to secure them. Detailed X-rays show your dentist where the implants should be positioned.
Understanding the Cost of Dentures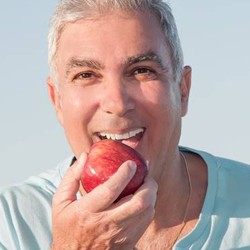 Obviously, the cost of dentures will depend on whether you need a partial or full replacement. If you have dental insurance, then some coverage—usually up to 50 percent—for a restorative procedure such as dentures is often provided. Regular deductibles and co-pays still apply.