Porcelain Veneers - Sugar Land, TX
Make Smile Flaws Disappear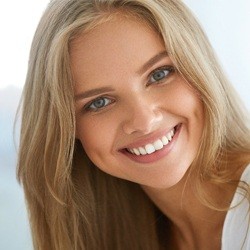 Do you have several flaws in your smile that you wish you could just cover up for good? If so, you're ready to explore the possibility of getting porcelain veneers in Sugar Land! Dental veneers crafted from high-quality dental porcelain can help you cover those pesky imperfections for years to come, helping you to achieve the smile of your dreams.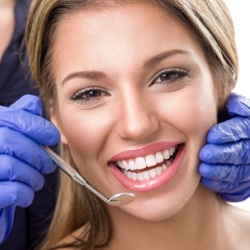 Get to Know Porcelain Veneers
Porcelain veneers have been a tried and true way to quickly transform a smile with flaws into the Hollywood smile that everyone wants. Highly customizable, the dental experts here at Eco Dental can help you achieve just the look you're hoping for.
Porcelain veneers are good for correcting the following issues in the front teeth, or those imperfections that show as soon as you smile, like:
Chips or cracks in teeth
Misaligned teeth
Gapped teeth
Deeply set teeth stains
Oddly shaped teeth
Patients who are committed to excellent oral health are the ideal candidates, as it takes a healthy smile to support dental veneers.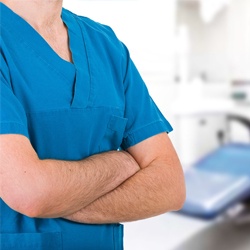 Getting Porcelain Veneers
You can expect to visit Eco Dental twice to have your porcelain veneers process completed.
The first dental visit is for us to discuss your smile goals. It can help to bring in photos of what you do and don't want your smile to look like for this initial appointment. Before you leave, your dentist will prepare your teeth by buffing a bit of the enamel to make room for the new veneers. Then, they will apply temporary veneers to wear until your next appointment.
Next, your dentist will trust a local dental lab to create your customized veneers based on the details provided. Once your veneers are ready, you'll come back to our office for the second appointment and final placement. And after this final visit, you'll leave our office with a brand new looking smile!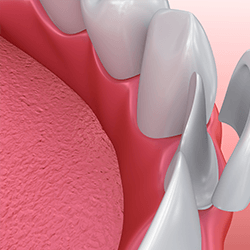 Keep Your Veneers for Years to Come
You'll be happy to know caring for your new smile isn't much different now than it was with your natural teeth. You'll simply need to continue brushing and flossing your teeth as you normally would. Plus, you'll need to be sure to schedule and keep all your regular dental appointments for appropriate veneer maintenance from a professional.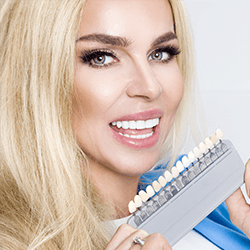 Contact Us to Schedule an Appointment Today!
Are you interested in improving your smile with the instant results of porcelain veneers? Don't wait to get started on your new, beautiful teeth when you have a whole office that is more than happy to serve you now! We will thoroughly discuss this option as well as our other offerings in cosmetic dentistry to help you make the very best decision for your smile. Feel free to contact our friendly office team to schedule your consultation today.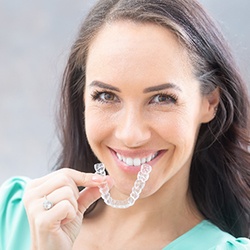 Understanding the Cost of Invisalign
The cost of Invisalign in Sugar Land cannot be determined until we meet with you for a consultation. This visit will tell our team everything we need to know about your smile and how we work to move it in the right direction to help you achieve your desired results. Once we evaluate your smile and the many factors that ultimately come with your treatment costs, we can build a personalized treatment plan that includes a step-by-step process and the estimated price tag for your new smile. At Eco Dental, you can trust our team to help you identify the most affordable way to move forward with Invisalign clear aligners.
Factors that Affect the Cost of Invisalign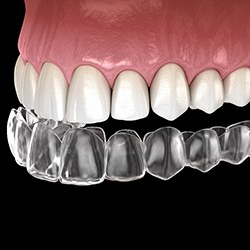 During your initial consultation, our team at Eco Dental will work to build a treatment plan that incorporates various factors that must be considered to provide you with a clear estimate for your new smile. We will evaluate and base our recommendations on the following:
How long it will take to complete your Invisalign treatment. Although it is possible to achieve faster results, you must understand that it does take time. Depending on the duration of your treatment based on the severity of your case, you may need additional aligners to achieve desired results. As a result, the more aligners you need, the higher the cost of treatment.
How severe your overcrowding, gapped or crooked teeth, or misaligned bite actually is. When determining the type of problem and how long it takes to treat it, you can understand how a minor gap will require less time than a severely misaligned crossbite.
If you require aligners for only your top teeth, bottom teeth, or both.
Invisalign vs. Smile Direct Club™: Which Costs More?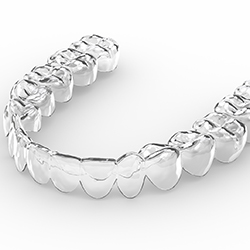 Smile Club Direct is one of the most popular DIY clear aligner solutions seen on television. Promising views an easy-to-use system that is affordable and lends beautiful results, it's easy to see why so many people are quickly ordering their own kit, which is estimated to be roughly $2,000 or less. When compared to the $3,000-$8,000 price tag associated with Invisalign in Sugar Land, dentists are working to remind patients why it's better to seek the help of a professional instead of trying to do it on your own.
With systems like Smile Club Direct, you must remember a few things:
By choosing to see an Invisalign dentist in Sugar Land, you can trust that your investment will leave you with results that can last a lifetime. Not to mention, should a problem arise during your treatment, you'll have a trusted expert who can help.
Does Dental Insurance Cover Invisalign?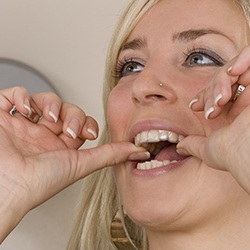 Some dental insurance companies do provide coverage for orthodontics; however, they may or may not include Invisalign as part of their policy. Traditional braces are typically covered up to 50%, but you'll need to check with your insurer to find out if there are any exclusions for Invisalign as well as how much of your deductible is met and any amount left toward your annual maximum. If you have used more of your yearly maximum before starting with Invisalign, you may find that your insurance company will not pay the full 50%. If you discover your remaining balance is more than you intended, you are free to use your FSA, if you have one, to help with payment.
Options for Making Invisalign Affordable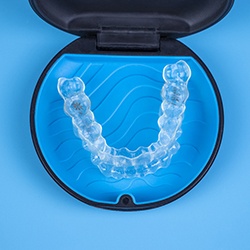 At Eco Dental, we want to make your Invisalign treatment affordable, which is why we are pleased to work closely with CareCredit. This third-party company offers flexible financing in the form of low and no interest payment plans. Breaking up the cost of your Invisalign treatment will enable you to move closer to a healthier, more beautiful smile all while staying within your monthly budget.
Invisalign doesn't have to leave you emptying your bank account. By choosing Eco Dental to improve the look and health of your smile, we will go above and beyond to help you find affordable solutions to pay for your clear aligner treatment. Contact us today to find out how we can help you save.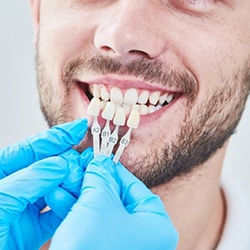 Frequently Asked Questions – Porcelain Veneers
Are you still on the fence about getting veneers? Maybe you have some questions that you want answered before you go through with this treatment. Our goal is to help you feel 100% confident that you're making the right choice for your smile and oral health. That's why, in the section below, we've compiled the answers to some questions about veneers that our team members get asked the most often. Feel free to contact us if you have any further questions!
Are Veneers Permanent?
In order to place veneers, we'll need to remove a tiny sliver of enamel from the affected teeth. Enamel does not grow back once it has been removed, meaning that getting veneers is indeed a permanent procedure. Those teeth will always need some kind of restoration to protect them moving forward. However, rest assured that if you take good care of your oral health with regular brushing, flossing, and dental cleanings, your veneers can last up to 20 years before they'll have to be replaced.
Will Getting Veneers Increase My Risk of Getting Cavities?
Veneers will neither increase nor decrease your risk of tooth decay. Just like with your natural pearly whites, if bacteria or plaque accumulate in your mouth, it can result in the formation of cavities or gum disease. If the teeth underneath your veneers are unhealthy, it could cause them to fail. That's why we always emphasize the importance of good at-home oral hygiene to any patients who are interested in getting veneers.
Are Veneers Really Stain-Proof?
Unlike natural tooth enamel, dental porcelain is not porous. This means that staining molecules are less able to seep into it and change its color. However, veneers are not entirely stain-proof. They are more stain-resistant. To prevent your new smile from becoming discolored, try to avoid overconsumption of items like wine, coffee, tea, berries, and darkly colored sauces.
Will Veneers Look Whiter Than the Rest of My Teeth?
Not at all! Each veneer is custom-made to closely mimic the appearance of your surrounding teeth. They should seamlessly blend in with your smile without making it obvious that you have had dental work done. Some patients choose to whiten their teeth before they receive veneers so that they can achieve an overall brighter grin.
Does It Hurt to Get Veneers?
During the preparation and placement of your veneers, your mouth will be numb. In fact, the only part of the procedure that may be uncomfortable is the administration of a local anesthetic.
You may feel some soreness for a day or two after receiving your veneers, especially if you received several at once. However, this discomfort should only last a few days, and it can be easily remedied with an over-the-counter pain medication such as acetaminophen.