Dental Implants - Sugar Land, TX
Replace Missing Teeth with Ease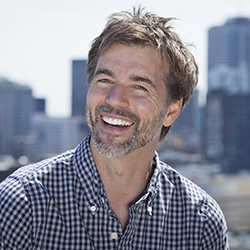 Missing teeth can be a real burden. They can make you self-conscious about your smile, and in many cases, they can even prevent you from enjoying your favorite foods. In fact, people with missing teeth are also more susceptible to periodontal (gum) disease, which can actually cause even more tooth loss! For people looking for a permanent solution, dental implants are the answer. They provide the best when it comes to strength, durability, AND aesthetics when compared to any other tooth replacement. Dr. Danny Nguyen, Dr. Cindy Hua, and our team are constantly amazed at the results they can achieve with dental implants, and we're sure you will be too!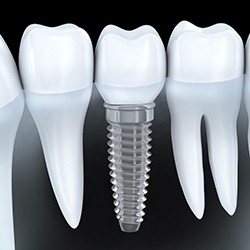 Dental Implant Placement
The reason dental implants are so special is because they actually replace the entire structure of your tooth, both above AND below the gum line. This is what gives them extra stability, and it also provides your jaw with essential support that will help maintain your facial shape for years to come. The entire dental implant process starts with a minor surgical procedure where a small, titanium post will be placed into your jaw to support your new teeth. For this procedure, we will refer you to a local specialist to assure you only receive the finest care. After a 4-6 month healing period, you'll return to Eco Dental to have your smile completed.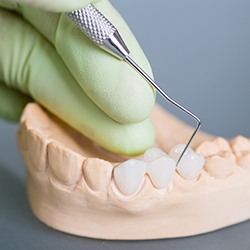 Implant Retained Crowns & Bridges
For a single missing tooth, we'll use an implant retained crown to replace it. This crown will be made of 100% dental porcelain, and this material will make it resemble a natural tooth in every way imaginable. It'll even feel like real enamel when you run your tongue across it! Plus, since it is firmly rooted in place below the gum line just like a natural tooth, it will blend perfectly with the rest of your smile. We bet the only person who will know that it isn't a natural tooth will be you!
Now, if you have a row of consecutive missing teeth, a dental implant can also be used to anchor a bridge. For this, two implant retained crowns will be placed into your mouth, and they will be attached to a row of prosthetic teeth to close the gap in your smile. Compared to traditional bridges, implant retained bridges look better, last longer, and help preserve your natural teeth because they don't need to be filed down to hold the supporting crowns.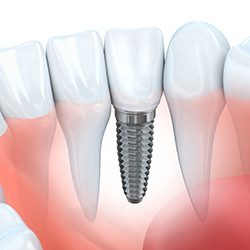 Implant Retained Dentures
Dental implants can also be used to support a full or partial denture. These implant retained prosthetics look just as good as traditional ones, but they come with a variety of additional benefits:
They won't ever slip, click, or pop because they are held in place with titanium.
The implants support your jaw, so your dentures will maintain their fit for much longer.
They provide a much stronger bite force than traditional dentures. This means patients will be able to eat whatever they want without having to worry.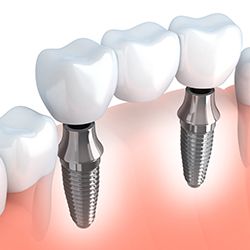 Mini Dental Implants
One of the basic requirements a patient needs to get dental implants is a healthy jaw bone. For people who have been missing teeth for a number of years, they often do not have the bone strength to actually support the posts. Fortunately, mini dental implants can now help them. They are much smaller than traditional implants, meaning that even more people now have the option to permanently rebuild their smile.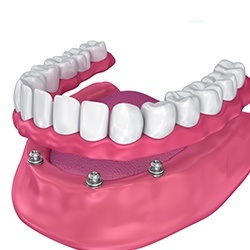 All-On-4 / Teeth-in-a-Day
The All-On-4 method often allows for a patient to have their dental implants placed and restored in a single day. Four implant posts will be strategically placed around the jaw and used to support a set of dentures. Two will be located at the front of the jaw, where the bone is naturally thicker, and two more will be placed towards the back of the jaw at an angle to provide maximum support. In many cases, a patient can wake up that day with an entire row of missing teeth, and then leave the office with a complete smile only a few hours later!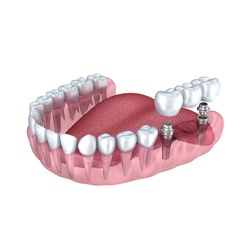 Cost of Dental Implants
Although dental implants can cost more upfront than traditional options, like dentures, they are more affordable long-term because they can last for several decades. The amount you pay is determined by your individual treatment plan. We provide you with a custom estimate and discuss the costs associated with each phase of your treatment during your initial consultation. There are several ways to pay for your new smile to ensure it stays within your budget.
Dental implants truly are the "gold standard" when it comes to tooth replacement. They offer the best looking and longest lasting results, and you can get them right here at Eco Dental. If you're ready to have your whole smile again, simply contact our Sugarland location today.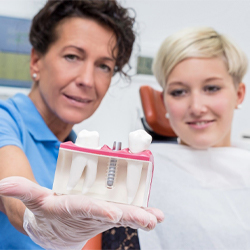 How Dental Implants Work
Dental implants are the only treatment to replace both the root and crown of your tooth. You will require a multi-step treatment plan to surgically place the post into your jawbone. An abutment is attached to it to connect your custom-made restoration. This process allows you to enjoy the next best thing to your real teeth using a solution that can last for several decades.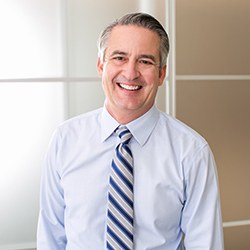 Dental Implant FAQs
Do you want to know more about rebuilding your smile with dental implants? For your convenience, we've gathered some of the most frequently asked questions we receive about this state-of-the-art tooth replacement treatment. If you don't see the answer you're looking for, feel free to contact your talented dental team at Eco Dental and we'll be happy to help!
How Are Dental Implants Cared for?
Even though your dental implant won't be susceptible to cavities or tooth decay, you still need to keep it clean. If you don't, plaque and bacteria will build up around it and may begin to damage the gum tissue that holds your dental implant in place. Thankfully, keeping a dental implant healthy, beautiful, and functional for decades to come is as simple as practicing a thorough dental routine. You can care for it and your natural teeth by brushing for two minutes twice a day, flossing daily, and rinsing with mouthwash regularly.
Can a Dental Implant Fail?
Although dental implant failure is rare, it can still happen. If the implant doesn't fuse with your jawbone or if your jaw is damaged by bacteria years later, your implant may not be able to retain its firm foundation in your smile. Fortunately, there are a variety of ways you can lower the risk of dental implant failure. Excellent oral hygiene, biannual visits to your dentist, eating a calcium-rich diet, and kicking bad habits like smoking or chewing on hard objects will all help your newly rebuilt smile stay healthy and intact.
Can I Get Dental Implants If I've Been Missing Teeth for Several Years?
Since dental implants need to fuse with your jaw to stay in place, it's important to have adequate bone tissue. Unfortunately, your jawbone begins to deteriorate as soon as a tooth is lost, so it may be relatively thin if you've been missing teeth for a while. In these cases, we'll carefully review your oral health and medical history to see if you may be a candidate for mini dental implants. These implants are smaller and require less bone strength to support them, allowing you to comfortably restore your confident smile.
How Long Does It Take to Get Dental Implants?
Typically, rebuilding your smile with a dental implant is a multi-step process. After your dental implant is initially placed, your jaw will need to heal for 4-6 months before the restoration (the visible portion of the dental implant) can be placed. However, if you're in good health and in a rush to get your new smile, you may be a candidate for All-On-4/ Teeth-in-a-Day. This method strategically places dental implants in the thickest parts of your jawbone to firmly hold a set of dentures in place. Within just one day, you can enjoy a fully rebuilt set of pearly whites!
Will My Insurance Cover Dental Implants?
Since every dental insurance policy is different, we'll be happy to help you review your benefits to see what's covered. Unfortunately, dental implants are not usually covered by insurance. We're committed to helping everyone achieve and maintain the happy, healthy smile they deserve, which is why we offer financing options with our partners at CareCredit. With low to no interest financing, you can break up the cost of your treatment to fit into your budget. If you're interested in learning more about CareCredit, we'll be happy to help you apply.