KöR® At-Home Teeth Whitening – Sugar Land, TX
The Trusted, Reliable, & Fast Way to Brighten Your Smile
At EcoDental, we strive to offer the latest dental treatments and technology to provide our patients with priceless, exquisite results that are long-lasting. Instead of throwing hundreds of dollars away on store-bought teeth whitening kits that are likely to cause oral irritation and other issues, you can choose KöR teeth whitening in Sugar Land. It's one of the most effective treatments in existence and uses unique and safe products to provide beautiful results in the comfort of your own home. To learn if our professional at-home treatment can help you, schedule a consultation today!
What is KöR Take-Home Teeth Whitening?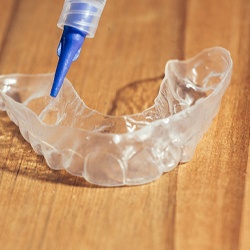 The KöR teeth whitening system was highly tested and researched for long periods of time before it became offered in dental offices around the world, assuring it was safe and effective for patients. Using peroxide whitening gels and customized trays, the KöR take-home method is able to deliver fast and optimal results. These ingredients are kept refrigerated and sealed until they're meant to be used, resulting in maximum effectiveness once they're placed on your teeth.
Another great benefit of professional teeth whitening in Sugar Land is that our gels contain a special blend of ingredients that eliminate any dental sensitivity that patients often experience when they use store-bought kits. Additionally, your at-home whitening trays will be custom-fitted to your mouth to ensure that the gel evenly and sufficiently coats the surface of your teeth for the best-looking results.
Benefits of Professional At-Home Teeth Whitening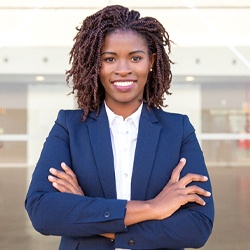 Many people wonder why they should visit their cosmetic dentist in Sugar Land for professional teeth whitening when they can just go to their local department store and purchase a kit off the shelves. Unfortunately, many people aren't aware that the ingredients found in these products aren't always safe for your teeth and gums, and they often cause irritation and oral sores. When you get a professional KöR teeth whitening kit, you'll be able to rest-assured that it is safe and highly effective. Here are some additional advantages of choosing professional treatment:
Custom-fitted whitening trays keep saliva out while holding the whitening gel around your teeth.
KöR system whitening kits can work for up to six hours, instead of conventional trays that are effective for about a half-hour.
KöR molded trays are more comfortable to wear.
When you're diligent about using your take-home treatment, you can achieve drastic results in little time.
No dental sensitivity after treatment.
Good Candidates for Take-Home Teeth Whitening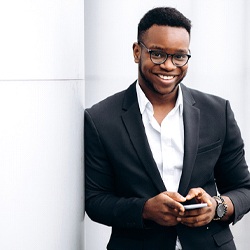 Professional teeth whitening is a good solution for adults who experience dental staining and discoloration that impacts self-confidence. It's not a good solution for people who have restorations including veneers, crowns, fillings, or replacement teeth that are visible, because these dental materials aren't porous and won't brighten like your natural teeth. It's also not an ideal solution for people who suffer from oral health problems and dental damage such as cracks, chips, and fractures. The best way to learn whether you're a good candidate for the procedure is to contact our office to schedule a consultation. We'll discuss your options with you and let you know any alternatives that may work better.
Teeth Whitening FAQs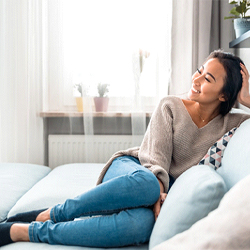 Are you looking forward to having your teeth whitened professionally? With our KöR Teeth Whitening System in Pearland, we're able to provide safe, trusted, and lasting results that you won't want to stop showing off. Below, we've answered some common questions that we receive from our patients for your convenience.
How long will my teeth whitening results last?
With the proper maintenance, your teeth whitening results can last for over a year. If you notice that your teeth are beginning to discolor again, you can always visit our office for a touch-up treatment. Some other ways you can preserve your results are to maintain good oral hygiene at home, avoid consuming stain-causing foods and drinks that are high in tannins, and don't forget to visit our office for your semi-annual checkups and cleanings.
Is professional teeth whitening safe?
Unlike over-the-counter teeth whitening kits that can erode your enamel, professional teeth whitening has been completely tested and proven to be safe and effective by the American Dental Association. KöR Whitening is considered completely safe and has been clinically studied for over three decades and safely used on millions of patients that haven't experienced any harm to their teeth or gums. Plus, it contains helpful ingredients that prevent dental sensitivity and work to protect your teeth so you can get worry-free cosmetic treatment.
Will my teeth look unnaturally white after professional treatment?
Some patients feel as though their teeth will look unnaturally white if they undergo professional teeth whitening because we only use highly-concentrated and fast-acting ingredients. When you first arrive to our office, your cosmetic dentist in Pearland will examine the current shade of your enamel and discuss the results that you'd like to achieve. Based on your desires, we'll customized the treatment to make sure that your smile looks exactly as you were hoping for.
How do teeth get stained?
Teeth can become stained due to eating or drinking certain items that are high in tannins or because of bad habits. These are special compounds that give items their rich color, such as red wine, curry, coffee, and soy sauce. They then attach to your teeth to form a blanket of discoloration and surface stains across your smile, which can impact your self-confidence. Professional teeth whitening ingredients act to break apart these stains and reveal your brightened smile underneath. The same can happen from bad oral habits such as tobacco use as well. That's why we recommend refraining from smoking or chewing tobacco after you've had your teeth whitened.