Implant Dentures – Sugar Land, TX
Strong Replacements for Complete Smiles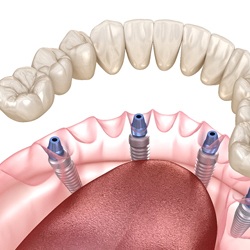 If you've lost most of your smile, you probably deal with a denture that slips and slides on a day to day basis. However, we offer an option that replaces your entire set of teeth while giving you the strength, beauty, and function that you once had. Keep reading to learn about implant dentures in Sugar Land and how they can change your life.
How Do Implant Dentures Work?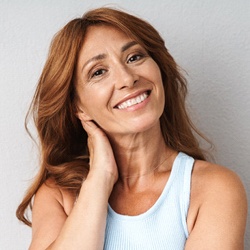 Implant dentures in Sugar Land combine dental implants with dentures to give patients a sturdy, stable, and full smile replacement. Instead of relying on natural suction to stay in place, the dentures are stabilized with dental implants rooted in the jaw. The result is a smile that looks, feels, and functions like the natural one you had in the past.
Am I A Candidate for Implant Dentures?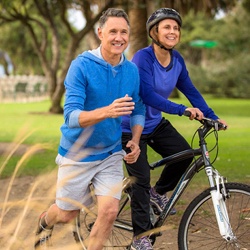 Candidates for implant dentures are typically those who are missing all or most of their teeth but still have enough volume in their jawbone for implant placement. However, procedures like bone grafting can be conducted for patients with weaker jaws, which is why the best way to know if implant dentures are right for you is to visit our office. One of our experienced and highly trained dentists will examine your smile, the condition of your oral health, and the strength of your jawbone. After, we will be able to make a proper recommendation and provide you with a personalized treatment plan.
The Implant Dentures Procedure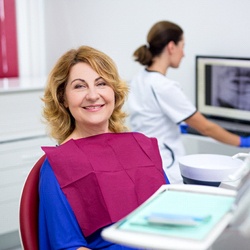 After Dr. Nguyen and Dr. Hua decide that implant dentures are a good option for your smile, your surgery will be scheduled. But first, we must treat any existing issues you may have such as periodontal disease. Next, we will ensure that you're comfortable and numb before making slight incisions in your gums to access the bone. After drilling small holes in the jaw, your implants are placed.
You will need to wait at least 3 to 4 months for your implants to heal. This process is called osseointegration. And, while it may seem like a long time, this is exactly what allows you to enjoy the unique benefits of dental implants in Sugar Land. After they have completely healed, you'll come back into our office, and we will take impressions of your gums and implants. Then, we can create your custom-made dentures, giving you your dream set of teeth.
Benefits of Combining Dentures & Dental Implants
We offer implant dentures because of these amazing advantages:
Function: Easily speak, laugh and chew through all of your favorite foods.
Confidence: Enjoy boosted confidence and self-esteem with a smile that looks and feels natural.
Bone health: unlike traditional dentures, dental implants stimulate your jawbone to prevent it from deteriorating after tooth loss.
Lifestyle: Implant dentures come with easier maintenance than traditional ones, allowing you to clean your teeth like your natural smile.
Are you ready to improve your appearance and oral health? Contact us today to get started with implant dentures.