Emergency Dentistry – Sugar Land, TX
Emergency Care That You Can Rely On!I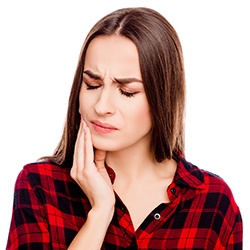 If you or a loved one suddenly suffered a severe dental injury, what would you do? There's pain, bleeding, and you just want to know that everything will be alright. In those critical moments, we want you to know that Eco Dental has you covered. Dr. Danny Nguyen, Dr. Cindy Hua, and our team are specially trained to handle dental emergencies, and we're the best way for you to get urgent care right when you need it. Whether you're experiencing tooth pain due to a long-term oral infection or pain caused by forced trauma, we can help you get treated. Call our office to get started!
How to Handle Common Dental Emergencies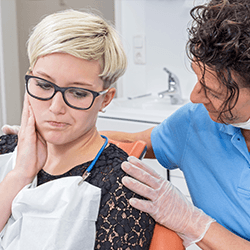 When you call in with an emergency, we'll make an appointment to see you as soon as possible (even the same day!), and our team will walk you through basic first-aid over the phone so we can start helping even before you come see us. The key to handling these situations is to get medical attention as fast as possible, so if they happen to you or a loved one, stop everything you're doing and contact us as soon as you can. Once you've scheduled an appointment, take a moment to learn the next steps for stabilizing your condition.

Toothaches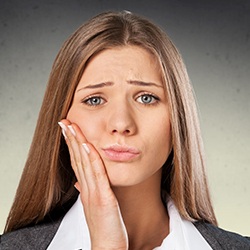 Use dental floss to remove any food debris that may be stuck between teeth. If pain continues, take an over-the-counter painkiller like ibuprofen. Avoid aspirin as this can cause a burning sensation when it comes in contact with the damaged tooth. Get to our office as soon as possible. If decay is present, we will remove it and restore the tooth with a filling. A crown may be needed if decay is extensive.
Chipped/Broken Tooth
Locate any pieces of tooth that you can and bring them to our office. Avoid chewing on that side of your mouth at all costs. Take painkillers as needed and use a cold compress to reduce swelling if present. Apply and remove the cold compress in 10-minute intervals. Use either sugarless gum or wax paraffin to cover the tooth if it is sharp. A crown can restore your damaged tooth in most cases.
Knocked-Out Tooth
Locate the tooth and pick it up by the crown portion only. Do not touch or remove any tissue that is still attached. Gently rinse any debris from the tooth using cool water, then rinse your mouth out. Place the tooth back into your socket. If not possible, keep it contained in milk, saltwater or saliva. Upon arriving at our office within the hour, we will attempt to reimplant the tooth. If not possible, we'll discuss your tooth replacement options.
Lost Filling/Crown
Locate the restoration. If not possible, avoid chewing on that side of your mouth until getting to our office. If you still have the crown, apply clove oil to your damaged tooth to reduce discomfort, then use either dental cement or denture adhesive to temporarily reseat the crown. Upon arriving, we will likely need to replace the restoration entirely.
How to Prevent Dental Emergencies
The best way to prevent a dental emergency is to practice routine oral care at home. This means brushing twice daily with fluoridated toothpaste and flossing once a day. If you participate in contact sports, always wear a mouthguard that properly fits. Do not use your teeth to perform tasks that should be performed with a tool. Avoid chewing ice and be extremely cautious when chewing hard foods. Always visit our office every six months for cleanings and exams. These preventive tips offer the best defense against dental emergencies.
Understanding the Cost of Emergency Dentistry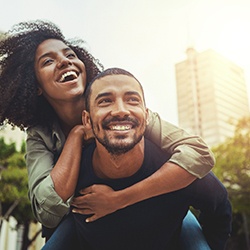 The last thing that should be on your mind when you're in need of emergency dental services is whether you can afford treatment. At Eco Dental, our team is dedicated to providing affordable and accessible dentistry as well as being as transparent as possible about pricing details. We'll never leave you in the dark and always walk you through all of your treatment options to find the best one that fits with your budget.
Emergency Treatments Differ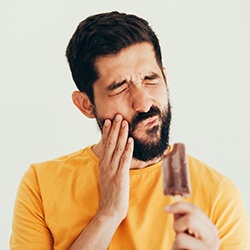 Visiting your emergency dentist is relatively inexpensive, especially if you have dental insurance. During your appointment, our team will take X-rays, conduct a thorough examination of your teeth and gums, and diagnose the underlying issue that's causing you pain or discomfort. Based on our findings, we'll outline a treatment plan for you as well the pricing for each of your options. However, the complete emergency dentist cost in Sugar Land will be based on what type of procedure you require. Here are some of the most common dental emergency treatments that we perform:
TMJ Therapy
Root Canal Therapy
Tooth Extractions
Dental Crowns
Tooth-Colored Fillings
And More!
Rest assured that our team will walk you through the procedures before conducting them so you know exactly what to expect.
Keep Up with Your Oral Health & Save Big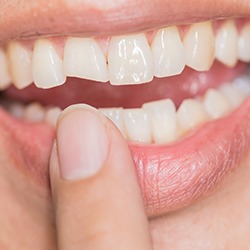 One of our biggest recommendations to patients in order to avoid needing emergency treatment is to keep up with a healthy oral hygiene routine. Preventive care is crucial to avoiding cavities and infections, and it can even preserve your smile for a lifetime! That being said, if you do experience dental pain or accidentally damage a tooth, it's important to visit us as soon as possible to keep the issue from becoming worse. The more severe an oral health problem becomes, the more likely it will be that you require an invasive (and more costly) treatment.
Does Dental Insurance Cover Dental Emergencies?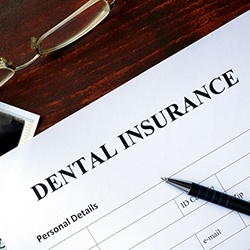 It's important to keep in mind that every dental insurance plan differs, but most cover treatments for dental emergency situations. If you need help figuring out the cost of your dental emergency in Sugar Land with insurance, our team is more than happy to assist by filing claims on your behalf, explaining insurance jargon, contacting your provider, and doing everything we can to maximize your benefits.
A helpful piece of information to know is that most dental insurance plans determine coverage using a 100-80-50 structure. This means that they cover 100 percent of preventive care, like checkups and cleanings, 80 percent of basic treatments, like cavity fillings, and 50 percent of more invasive procedures, such as tooth extractions.
Other Options for Making Dental Emergencies Affordable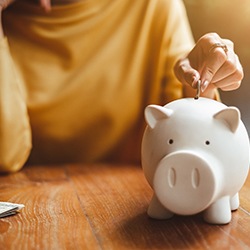 In addition to accepting dental insurance, our team also offers additional financing through CareCredit. CareCredit is a third-party financer that offers payment plans at little to no interest. They're flexible monthly plans that can easily accommodate nearly every budget. If you'd like help applying, don't hesitate to reach out to our office!
We're Here for You
Hopefully, you'll never have to deal with a dental emergency, but if you do, you now have a plan, and that plan is Eco Dental. We'll make sure that no matter your situation, you'll always come out smiling on the other side. If you have any questions about how to handle a dental emergency or how to avoid one altogether, be sure to contact our Sugar Land office.
Emergency Dentistry FAQs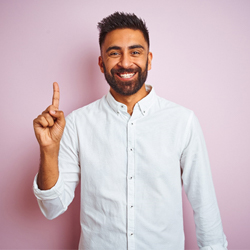 Dental emergencies always happen at the most inconvenient moments. Because it's so important to act efficiently and effectively when they occur, it's good to have a reliable and trustworthy emergency dentist in Sugar Land by your side to walk you through every step of the way. If you're in a dental dilemma and don't know what to do, contact Eco Dental. At the moment, we're also offering a $49 emergency examination and X-ray. For your convenience, we've collected some common questions we get from patients below.
How long should I wait before I seek emergency care?
Many people put off treating dental emergencies because they're too worried about making a big deal out of a small problem or they don't want to interrupt their daily plans. While it's tempting to put an oral health problem on the backburner, it'll only result in more stressful situations to deal with in the future. Depending on what issues you're having, you may be able to wait to seek treatment. But typically, for problems such as a knocked-out tooth, severe toothache, or major dental damage, you'll want to visit us right away.
Can I repair my loose crown at home?
The older your restorations are, the more likely they are to fall out or become loose. While it seems like something you can handle at home with superglue or some denture adhesive, don't. Trying to finagle a permanent treatment yourself can cause serious complications and problems down the road. If you have a loose or lost crown, contact our office immediately. We'll walk you through any first aid steps and make sure your tooth is protected from any further damage.
Will my dental insurance cover emergency visits?
While most dental insurance plans cover emergency visits, it's best to contact your provider to double-check, because nothing's guaranteed. Depending on your specific benefits, they may pay for a portion or all of your treatment if you visit a dentist who is in their network.
At Eco Dental, we accept all PPO plans and are in-network with Aetna. We also happily take Medicaid and CHIP and offer additional financing if you need it. We believe that a monthly budget shouldn't stand in the way of you getting the care that you need, so we're always happy to help!
When should I go to the hospital?
There are certain situations that our facilities aren't equipped to handle. These include serious injuries such as a broken or fractured jaw and facial lacerations that need stitches or are continuously bleeding. Once you've received the necessary urgent care, our team would be more than happy to help treat your dental needs and get your smile up-and-running again!