Emergency Dentistry – Sugar Land, TX
Emergency Care That You Can Rely On!I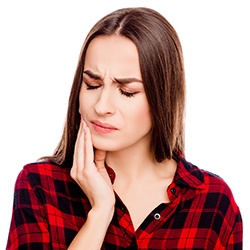 If you or a loved one suddenly suffered a severe dental injury, what would you do? There's pain, bleeding, and you just want to know that everything will be alright. In those critical moments, we want you to know that Eco Dental has you covered. Dr. Danny Nguyen, Dr. Cindy Hua, and our team are specially trained to handle dental emergencies, and we're the best way for you to get urgent care right when you need it. Whether you're experiencing tooth pain due to a long-term oral infection or pain caused by forced trauma, we can help you get treated. Call our office to get started!
How to Handle Common Dental Emergencies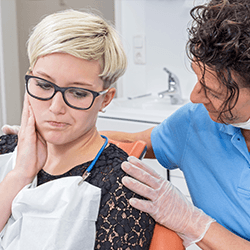 When you call in with an emergency, we'll make an appointment to see you as soon as possible (even the same day!), and our team will walk you through basic first-aid over the phone so we can start helping even before you come see us. The key to handling these situations is to get medical attention as fast as possible, so if they happen to you or a loved one, stop everything you're doing and contact us as soon as you can. Once you've scheduled an appointment, take a moment to learn the next steps for stabilizing your condition.

Toothaches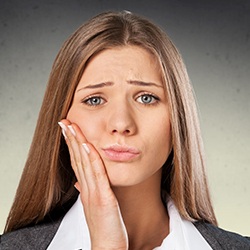 Use dental floss to remove any food debris that may be stuck between teeth. If pain continues, take an over-the-counter painkiller like ibuprofen. Avoid aspirin as this can cause a burning sensation when it comes in contact with the damaged tooth. Get to our office as soon as possible. If decay is present, we will remove it and restore the tooth with a filling. A crown may be needed if decay is extensive.
Chipped/Broken Tooth
Locate any pieces of tooth that you can and bring them to our office. Avoid chewing on that side of your mouth at all costs. Take painkillers as needed and use a cold compress to reduce swelling if present. Apply and remove the cold compress in 10-minute intervals. Use either sugarless gum or wax paraffin to cover the tooth if it is sharp. A crown can restore your damaged tooth in most cases.
Knocked-Out Tooth
Locate the tooth and pick it up by the crown portion only. Do not touch or remove any tissue that is still attached. Gently rinse any debris from the tooth using cool water, then rinse your mouth out. Place the tooth back into your socket. If not possible, keep it contained in milk, saltwater or saliva. Upon arriving at our office within the hour, we will attempt to reimplant the tooth. If not possible, we'll discuss your tooth replacement options.
Lost Filling/Crown
Locate the restoration. If not possible, avoid chewing on that side of your mouth until getting to our office. If you still have the crown, apply clove oil to your damaged tooth to reduce discomfort, then use either dental cement or denture adhesive to temporarily reseat the crown. Upon arriving, we will likely need to replace the restoration entirely.
How to Prevent Dental Emergencies
The best way to prevent a dental emergency is to practice routine oral care at home. This means brushing twice daily with fluoridated toothpaste and flossing once a day. If you participate in contact sports, always wear a mouthguard that properly fits. Do not use your teeth to perform tasks that should be performed with a tool. Avoid chewing ice and be extremely cautious when chewing hard foods. Always visit our office every six months for cleanings and exams. These preventive tips offer the best defense against dental emergencies.
The Cost of Treating Dental Emergencies
The cost of your treatment may vary depending on the extent of your dental emergency. In some cases, antibiotic therapy is all that is needed to treat an oral infection. However, severely broken teeth may require a crown or even tooth replacement to resolve. The best way to confirm your costs is to get professionally evaluated by one of our dentists.
Once you've made it to our office, you won't wait, we'll bring you straight back to a treatment room. We can often complete emergency treatments in just one visit, but if we can't, we'll be sure to eliminate your pain and schedule any follow-up appointments necessary. You'll also want to take advantage of our current special offer, where emergency exams and X-rays are only $49!
We're Here for You
Hopefully, you'll never have to deal with a dental emergency, but if you do, you now have a plan, and that plan is Eco Dental. We'll make sure that no matter your situation, you'll always come out smiling on the other side. If you have any questions about how to handle a dental emergency or how to avoid one altogether, be sure to contact our Sugar Land office.