Full Mouth Reconstruction – Pearland, TX
Rebuild Your Smile With Natural-Looking Restorations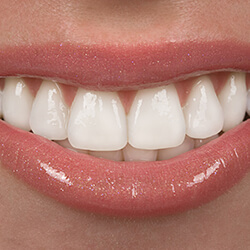 Over time, your smile can become damaged, either as a result of decay or from physical trauma that leaves teeth cracked, chipped, broken and even completely knocked out! That doesn't mean you can't restore your smile and invigorate your oral health along the way. With a full mouth reconstruction in Pearland, TX performed by our expert dentists, you too can transform your smile for life. To set up your first consultation, call our office and our team will help you start the process!
What is Full Mouth Reconstruction?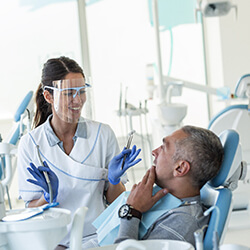 Full mouth reconstructions are personalized treatment plans that combine a series of restorative and tooth replacement services. Overall, they are designed to improve both your oral health and the appearance of your smile. Reconstructions may include dental crowns, tooth-colored fillings, dentures and dental implants, but they can also include porcelain veneers and direct bonding.
What Can I Expect with Full Mouth Reconstruction?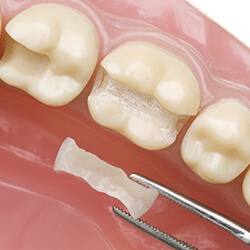 Our dentists will plan your full mouth reconstruction during your consultation. During this visit, we will evaluate your current oral health, ask questions about your needs, and determine the best options for helping you achieve your ideal smile and positive oral health. From there, we'll begin scheduling your treatments over the course of multiple visits. The length of your treatment largely depends on your needs and the amount of time needed to complete each necessary service.
Crown/Bridge
Crowns and dental bridges are perfect for covering fractured or decayed teeth as well as bridging the gap where teeth have been lost or extracted.
Onlays & Inlays
Onlays and inlays are personalized restorations that fit either inside teeth or on the top portion of teeth, respectively.
Veneers
Largely used for cosmetic purposes, porcelain veneers are designed to attach to the teeth visible in your smile. They not only mimic enamel, but sit flush against teeth to hide chips, cracks, stains, and even small gaps.
Dental Implants
Using a titanium post and ceramic materials, dental implants replace the root of missing teeth, ensuring a long-lasting foundation for a future restoration. They can be used to hold single, multiple or all teeth in a given arch.
Dentures
The fastest way to resolve extensive tooth loss, dentures can be removable or attached to dental implants for a more reliable fit.
Benefits of Full Mouth Reconstruction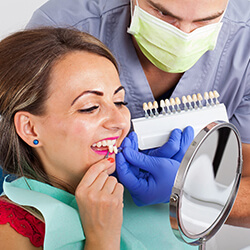 It's important to recognize full mouth reconstructions as an investment in both your smile and your oral health. With them, you can effectively:
Make your smile look complete
Boost your confidence and self-esteem
Relieve pain in your teeth, jaw and head
Eat more of the foods you enjoy
Improve your long-term oral and overall health