Dental Sealants – Sugar Land, TX
Keep Tooth Decay at Bay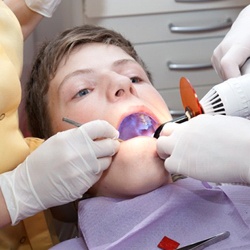 No matter how diligent your child is about brushing and flossing, they still seem to always get cavities. Why is that? It turns out that your child's back teeth, also called their molars, have pits and grooves into which bits of food that attract bacteria can get trapped, resulting in tooth decay. To make matters worse, little arms sometimes have a hard time reaching to clean those back teeth, making cavities more likely. Fortunately, your dentist in Sugar Land offers an easy method to keep tooth decay at bay – dental sealants. Read more to learn all about what they are and how they can help prevent cavities.
What Are Dental Sealants?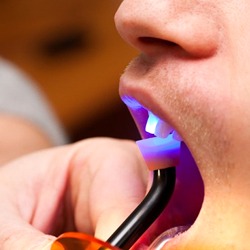 Sealants are a plastic-like coating of composite resin that are painted onto the chewing surfaces of your child's molars to prevent bacteria and food particles from getting trapped there and wreaking havoc. Even if your child brushes and flosses every day, they could always do with some extra protection. Luckily, dental sealants in Sugar Land can easily be applied at their next checkup.
Who Is a Good Candidate for Sealants?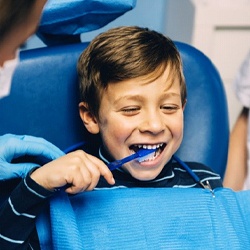 We normally recommend that your child get dental sealants as soon as their molars finish growing in, around the age of six or seven. That way your son or daughter can have protection against cavities as soon as possible. However, sealants aren't just for kids. If you're an adult and we determine that you are at a high risk for tooth decay, we may suggest getting sealants to provide you with an extra boost of protection.
Process of Sealants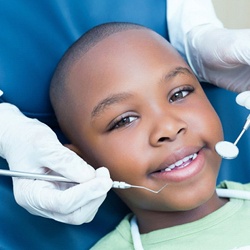 Luckily, the dental sealants procedure is easy and completely pain-free. First, one of our dental hygienists will clean and polish your child's teeth, making sure they are free of food particles, plaque, and decay. Next, they will use a brush to carefully apply the sealant material to the nooks and crannies of your little one's molars. A curing light will then be used to harden the sealants into place. Finally, either Dr. Nguyen or Dr. Hua will evaluate your sealants to make sure they look good and can do their job effectively.
Benefits of Sealants
The main advantage of dental sealants is that they dramatically reduce your child's risk of developing cavities for years to come. The process is also incredibly simple, straightforward, quick, and pain-free, and can be implemented as part of your child's regular checkup. Sealants can also last a long time, up to ten years, before needing to be replaced. To top it all off, sealants are quite easy to maintain. Simply have your child brush and floss as normal, and avoid hard or sticky foods that could damage the sealants.
Are you or your child ready to give dental sealants in Sugar Land a try? Contact us today to set up an appointment to help keep tooth decay at bay!