How Dental Implants Work – Sugar Land, TX
Learn More about Dental Implants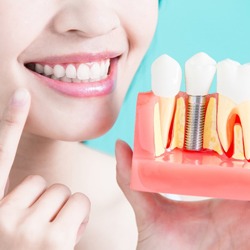 Now, you have several options to replace your missing teeth. Besides traditional treatments, like a bridge or denture, you have also heard about the benefits of dental implants in Sugar Land. They are the most successful solution to treat tooth loss because of the unique process used to replace both the root and the crown. Your journey to a complete smile will require a multi-step treatment process, but there is no need to worry. Here is what you can expect when rebuilding your smile.
Initial Dental Implant Consultation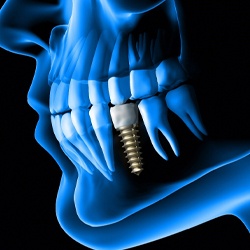 Most people who have missing teeth are a candidate for dental implants if they have good oral and general health; however, you still need a consultation with your implant dentist in Sugar Land to assess your dental health. Besides a visual examination, you need digital x-rays and a CT scan to look for any potential issues that may be brewing beneath the surface, like decreased bone density in your jaw. Your dentist may determine you need additional treatments before placing your implant posts, such as bone grafting or tooth extractions.
Dental Implant Surgery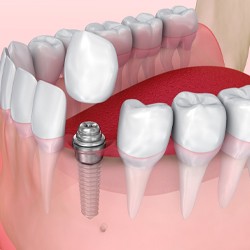 You are scheduled for your implant placement surgery after the foundation is established for your new smile. Sedation or anesthesia is used to ensure your comfort as your gum tissue is opened to expose your jawbone. A small hole is strategically drilled into it for each post to be placed. Your gum is sutured closed, and the healing process begins.
Dental Implant Osseointegration & Abutment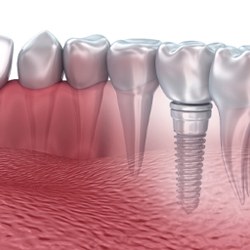 The implant posts stimulate your jaw to encourage new bone growth. This allows your jaw to fuse to them over the next several weeks. As a result, they can potentially remain in place forever with the right aftercare.
After your jawbone is healed, special fixtures called abutments are attached to each post using a second minor surgery. Your gum tissue is opened to expose the head of the posts to connect the abutments. These are special attachments that hold your restorations to your posts. Your gum tissue heals around them over the next couple of weeks to create a seal around the posts.
Placement of Dental Implant Restorations
An impression of your mouth is used to carefully craft your restorations. Depending on how many teeth you are missing, you will need a crown, bridge, or denture. They are made from all-ceramic material to mimic the appearance of your natural teeth. Rest assured they are made from high-quality material to function like your real teeth.
Schedule Your Consultation Today!
If you are ready to invest in a beautiful smile contact our office today to see if dental implants are right for you.