Dentist – Sugar Land, TX
Keeping Sugar Land Residents Smiling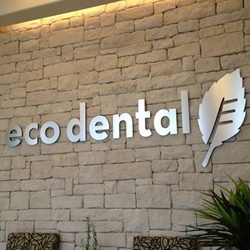 Welcome to Eco Dental of Sugar Land! With two dental office locations in the Greater Houston Metro, Eco Dental offers families in Sugar Land and surrounding communities a comfortable, state-of-the-art dentistry practice with an eye toward the future, minimizing our carbon footprint. We love working with patients of all ages, and we welcome families who want to set aside a block of appointments to come and see us together. Our goal is to make your dental care experience as stress-free as possible. We now have an office in Pearland as well as Sugar Land, but Eco Dental started right here in Sugar Land. Since opening our doors, we've shown patients from our communities that they don't have to dread visiting the dentist. Gone are the hours-long waits in the uncomfortable plastic waiting room chairs, and long gone are painful dental services from dentists who don't take the time to explain your treatment options.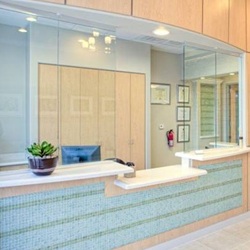 Instead, Eco Dental is warm and welcoming from the moment you step inside. Our comfortable waiting area will be wasted on you since you won't likely spend much time here, but the few minutes you're waiting are going to be much more comfortable. Every member of our team was chosen because they are knowledgeable about the dental field, but even more importantly, we found a group of dentistry professionals who truly care about treating people with kindness and respect. Our dentists, Dr. Danny Ngyuen and Dr. Cindy Hua, are committed to offering a wide range of dentistry services in complete comfort and without any unnecessary stress. We even do our part to minimize our carbon footprint with a nearly paperless practice, environmentally safe cleaners and sanitizing agents, and we even have recycled carpets! If you're ready to visit us, give our Sugar Land dental office a call. We can't wait to see your smile!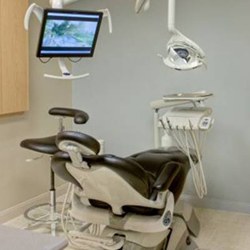 About Sugar Land
Located in the southwestern section of the Houston-The Woodlands-Sugar Land Metro Area, Sugar Land grew up around its large sugar plantation, now part of the Imperial Sugar Company. Sugar Land is a fast-growing and affluent city with a population of just 78,800 in 2010, the estimated population is now well over 100,000. Its growth both in industry and population make Sugar Land unique among the other Houston Metro bedroom communities. Still thought of by many as a company town, Sugar Land is home to the Imperial Sugar corporate headquarters as well as the Minute Maid and Schlumberger corporate headquarters. It is also home to a number of large energy and software firms.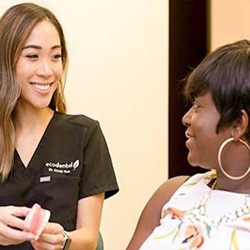 We Love Keeping Sugar Land Families Smiling
At Eco Dental, we offer a wide range of dentistry services to keep every member of the family smiling. Some of those dental treatments that set us apart from other Sugar Land dental offices include:
Single tooth, multiple teeth, and full smile restoration with dental implants
Botox Cosmetic for flawless skin
Botox Therapeutic for TMJ dysfunction and chronic migraines
Invisalign alignment tray orthodontics
Gum disease therapy using state-of-the-art soft tissue lasers
Same day emergency dentistry whenever possible