October 13, 2017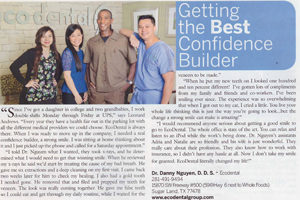 You probably haven't met him, but your neighbor Leonard Andrews knows how important a confident smile is. That's why he visited Dr. Danny Nguyen, your dentist in Sugar Land, when it was time to move up in his company — he wanted to make a big impression.
On a Saturday morning last fall, Dr. Nguyen recognized right away that Leonard has some teeth that needed to go. 6, in fact. He extracted the teeth and performed a deep cleaning on that very same day. Then Dr. Nguyen set Leonard up with a treatment plan for rescuing his smile.
After receiving his new teeth, Leonard couldn't believe his eyes. As he says, "The experience was so overwhelming that when I got out to my car I cried a little. You live your whole life thinking this is just the way you're going to look… but the change a strong smile can make is amazing!"
Leonard's story is just one of the many shared by those who have had their teeth transformed by Dr. Nguyen at EcoDental. He and his team are proud to be local leaders of comprehensive dentistry in Sugar Land and Pearland — and Dr. Nguyen is quickly making his way to the very top, thanks to his vast experience and warm, welcoming personality. Keep reading to learn 5 things you may not have known about your local dentist!
#1: He Was Born in Saigon
Dr. Nguyen was born in Saigon, or Ho Chi Minh City, Vietnam. He soon moved with his family and was raised right here in Houston, TX.
#2: He Attended the University of Houston
Growing up in Houston, Dr. Nguyen wasn't far from the University of Houston. When it was time to earn his education, he looked to UH and then earned his Doctor of Dental Surgery from the UT Health Science Center of Houston, Dental Branch as well.
#3: He Values Continuing Education
Since beginning his career, Dr. Nguyen has remained committed to expanding his experience to improve the level of care he provides. As such, he has stayed abreast of the latest changes in dentistry through his involvement in a number of professional organizations and continuing education opportunities, including over 20 hours of education in orthodontics.
#4: 20+ Years of Experience
Dr. Nguyen has significant experience in providing comprehensive dentistry for Houston friends and families — over two decades of it! He says throughout his career, what he has enjoyed most is helping patients smile brighter by achieving their dental goals.
#5: He Wants to Meet You!
Dr. Nguyen at EcoDental is now accepting new patients — and he looks forward to meeting you and your loved ones. To learn more about the services offered, including general, restorative, and cosmetic dentistry, or to schedule an appointment with your trusted dentist in Pearland and Sugar Land, you are invited to contact the office at 281-491-9494.
Comments Off

on 5 Things You Didn't Know About Your Dentist in Sugar Land
No Comments
No comments yet.
RSS feed for comments on this post.
Sorry, the comment form is closed at this time.