October 30, 2017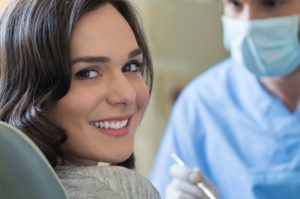 What's one of the first things people notice about you? Your smile! It makes total sense for people to feel less than confident when they have flaws in their front teeth.
If you're ready to make improvements to your smile, porcelain veneers in Sugar Land may be right for you. With veneers, you can fix a number of imperfections with a single procedure!
Understanding Porcelain Veneers
Porcelain veneers are ultra-thin shells of high-quality dental material that are attached to the front surfaces of your teeth. Each veneer is customized just for you and the specific tooth that it will be attached to.
Since veneers are crafted from high-quality materials, they can be made to perfectly match your teeth. In fact, many people may choose to get porcelain veneers specifically for yellowing or stains that just won't go away.
You Can Benefit from Porcelain Veneers in Many Ways!
Of course, the biggest benefit of having porcelain veneers is the aesthetic boost and confidence that comes with it, but there are a number of ways that you can benefit from this cosmetic procedure.
Benefit #1
Unlike cosmetic dental bonding (composite resin), porcelain veneers don't require as much maintenance since they don't chip as often. Porcelain veneers are crafted to be durable, usually lasting anywhere from 12-25 years depending on your level of care.
Benefit #2
If the main reason that you're considering getting porcelain veneers is because your teeth are small or misaligned, veneers are the best option hands down. Since veneers are made from a mold of your teeth and sized to fit perfectly, your new teeth will be proportionate to the rest of your mouth.
Benefit #3
As mentioned above, many people may consider getting veneers for permanent whitening reasons. If you have severe discoloration, veneers can completely cover that, and they actually have stain resisting abilities.
Benefit #4
An additional benefit that porcelain veneers offer is that the gum tissues can better tolerate porcelain compared to other dental materials. This helps them to stay strong and healthy within your mouth for much longer.
Benefit #5
Depending on the case, porcelain veneers may be a great way to avoid spending money and valuable time on braces. Most cases of crooked teeth or gapped teeth can be solved with simple porcelain veneer placement, significantly speeding up your straightening process.
With all of these positive reasons, why wouldn't you consider getting porcelain veneers? Ultimately, they will help you gain more confidence amongst all the rest of these benefits!
---
About Our Office
If you're looking for a dental practice that does things a little differently, look no further. Here at EcoDental, we believe in providing personalized care with nothing but eco-friendly materials that can still get you the results you need. We believe it having a positive impact on patient's smiles and the environment.
Comments Off

on Receive 5 Benefits from Porcelain Veneers in Sugar Land
No Comments
No comments yet.
RSS feed for comments on this post.
Sorry, the comment form is closed at this time.