February 15, 2018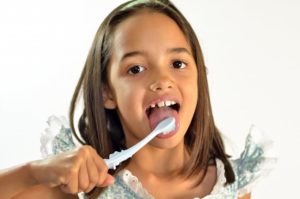 With February being National Children's Dental Health Month, your children's dentist in Sugar Land thought it would be useful to write about the basics of oral care for your child! Whether you've been a parent for years or you are expecting, oral care is tremendously important for your child's development.
When it comes to tooth decay, children are the most vulnerable. According to the CDC, it's one of the most common chronic conditions of childhood in the United States. Between 2005 and 2008, 1 in 5 children aged 5 to 11 years of age had at least one untreated decayed tooth. One out of 7 adolescents aged 12 to 19 had at least one untreated decayed tooth as well. It's just another reason why your child needs to visit the dentist and develop good oral care habits now.
The Myth Behind Baby Teeth
It's a common myth that baby teeth do not have to be cared for since they will eventually fall out anyway. Unfortunately, people may not realize the important role that baby teeth have in their child's early development. Baby teeth are meant to act as spacers for your child's permanent teeth. Basically, they allow your child to get used to eating tougher foods before their permanent teeth start erupting.
If they lose their baby tooth too early because of decay or because of an injury, it will incorrectly signal their permanent teeth to start coming in before they're ready. It can also cause their remaining baby teeth to start shifting into the empty spaces in their mouth. This can lead to an improper bite or misalignment issues later in life.
When Your Child Should See their Dentist
According to the ADA, your child should be seeing their dentist no later than 1 year of age or within 6 months of their first tooth erupting. This way, your family dentist in Sugar Land can make sure your child's tooth is healthy and go over treatments that would benefit their development. This usually includes dental sealants, fluoride treatments, and proper at-home care techniques.
Just like your pediatrician, you should be taking your child to the dentist regularly. Oral health has proven to be largely connected to overall health, so if you don't skip your doctor visits, why would you skip your dental visits?
Why Proper Oral Care and Dental Visits are Important
According to the ADA, parents should act early to ensure the health of their children's teeth. To them, attitudes and habits established at an early age are critical in maintaining good oral health throughout life. A great way to do this is to schedule your dental visits close to your child, as many parents are currently doing.
For example, a recent study from the National Health Review shows that 77 percent of children and 64 percent of parents had seen a dentist in the previous year. Eighty-six percent of children whose parents had a dental visit the preceding year had a dental exam, compared to 63 percent of children whose parents did not see a dentist.
By being a part of regular dental visits, children will grow to learn its importance, therefore stay on top of their dental health on their own by the time they're independent. If you have a child, make it a habit to bring them with you to your next visit with your dentist in Sugar Land!
About the Author
Dr. Danny Nguyen earned his dental degree at the University of Houston. He's also undergone continuing education in orthodontics. Since he has a family of his own, he understands the importance of regular dental visits. To learn more about his pediatric care and practice, contact him at (281) 491-9494 or visit his website.
Comments Off

on Oral Care Tips from Your Children's Dentist in Sugar Land
No Comments
No comments yet.
RSS feed for comments on this post.
Sorry, the comment form is closed at this time.