January 23, 2021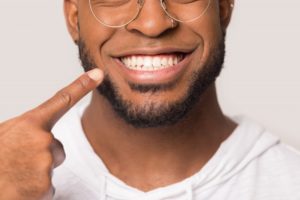 In the last few decades, dental implants have taken the world by storm as the premier way to replace missing teeth. Conversations about this treatment often center around the stability, longevity, and oral health advantages they offer over alternative solutions like dentures or dental bridges. Indeed, most dentists consider dental implants the gold standard in treating tooth loss. With that said, you may be wondering how they look. Here are four cosmetic benefits of dental implants that you may not have considered.
1. Keep Looking Young
After you lose a tooth, the part of the jawbone that its roots once supported begins to deteriorate. Eventually, the bone will no longer be able to support your facial muscles, leading to a sunken appearance that prematurely ages you. The more teeth you're missing, and the longer it has been since you lost them, the more likely you are to experience this problem. Because dental implants replicate the root of a lost tooth, they stimulate your jawbone enough to help you maintain a youthful glow.
2. Seamless Replacement Teeth
While dental implants themselves are usually dark gray or black, they're not the part that everyone sees. The implant itself is placed underneath the gums and is later topped with a restoration – a dental crown, bridge, or denture. Your dentist will capture impressions of your smile and use them to customize your replacement teeth, ensuring they fully resemble your original pearly whites.
3. Teeth That Stay in Place
These days, even traditional dentures can look quite natural. However, because they do not stimulate the jawbone, they eventually lose their snug fit due to bone loss. This makes them more likely to slip around while you're eating, talking, or smiling, creating uncomfortable and awkward situations.
Because dental implants prevent jawbone loss, they shouldn't lose their fit in this way. Plus, they're anchored in the jaw, so they won't slip around at inopportune moments.
4. Decades of Beautiful Smiles
Dental implants have the potential to last for 30+ years, or even a lifetime if you take care of them with good oral hygiene and routine dental checkups and cleanings. By contrast, traditional bridges and dentures need to be replaced every five to ten years on average. Once you receive your dental implants, you can rest easy knowing you'll have a dazzling smile for decades.
In addition to the numerous oral health benefits they offer, dental implants are also the most aesthetically pleasing way to replace missing teeth. If you've been considering dental implants, schedule a consultation with your dentist to find out how they can complete your smile!
About the Practice
At Eco Dental Sugar Land, we have two skilled, friendly dentists who have years of experience helping the people of Sugar Land, TX smile a little more brightly. Dr. Danny Nguyen and Dr. Cindy Hua partner with the best local dental implant specialists to ensure their patients have beautiful smiles that last. To learn more about the cosmetic benefits of dental implants, contact their Sugar Land location at (281) 491-9494.
Comments Off

on 4 Ways Dental Implants Can Give You a Beautiful Smile
No Comments
No comments yet.
RSS feed for comments on this post.
Sorry, the comment form is closed at this time.