April 10, 2021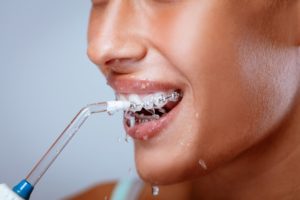 Dental hygiene products are constantly evolving. As a result, consumers now have an alternative to using dental floss: a water flosser. Is it as proficient a tool for removing plaque and debris from between teeth and preventing cavities as dental floss? To help you draw a conclusion, a local dentist explains how water flossers work and what to expect from them.
The Ins-and-Outs of Water Flossers
Electronically or battery powered, a water flosser works by shooting a high-powered stream of water at the teeth and gums to remove plaque and leftover food particles. Just like traditional flossing, it doesn't serve as a substitute for toothbrushing. Instead, water flossing is an excellent complement.
The following explains how the device is set-up and used:
Setting up the flosser – To prepare the device for usage, you'll need to fill the flosser's reservoir with lukewarm water.
Getting into position – As you place the flosser tip to your mouth, be sure to lean over the sink to avoid making a mess. Then, hold the handle at a 90-degree angle to your teeth and spray.
Executing the cleaning – Starting at the back of your mouth, work your way around, while focusing on cleaning the top of your teeth and along the gum line.
Is Water Flossing as Good as Using Dental Floss?
The quality of different water flossers can vary. Therefore, you should look for the American Dental Association (ADA) Seal of Acceptance, which lets you know that the flosser can effectively get rid of plaque. One particular brand that carries this stamp of approval is the Waterpik.
Still, many dental professionals aren't sold on the notion that a water flosser can replace traditional flossing, even if it's ADA approved. That's because dental floss, along with its manual maneuvering, provides a level of resistance that a water flosser can't recreate. Therefore, your dentist may advise against tossing your dental floss.
If you're unable to manually floss because of an injury or condition that limits your range of motion or dexterity, using a water flosser is better than nothing. When it's all said and done, you can also help the cause for excellent dental health by monitoring the amount of sugar you consume and performing dental hygiene at least two times a day.
Then, by visiting your local dentist, you can get an expert and upfront opinion about using a water flosser. Therefore, you can feel confident that you're doing what's necessary to maintain healthy teeth and gums.
About the Author
Dr. Danny Nguyen is a graduate of the UT Health Science Center of Houston. For over 20 years, he has been providing his patients with the absolute best in dental care. As part of his commitment to excellence, Dr. Nguyen has completed several hours of advanced postgraduate education in a host of areas. He offers preventive care at Eco Dental, and he can be reached for more information or to schedule a visit through his website.
Comments Off

on Is a Water Flosser a Sufficient Substitute for Dental Floss?
No Comments
No comments yet.
RSS feed for comments on this post.
Sorry, the comment form is closed at this time.