May 13, 2021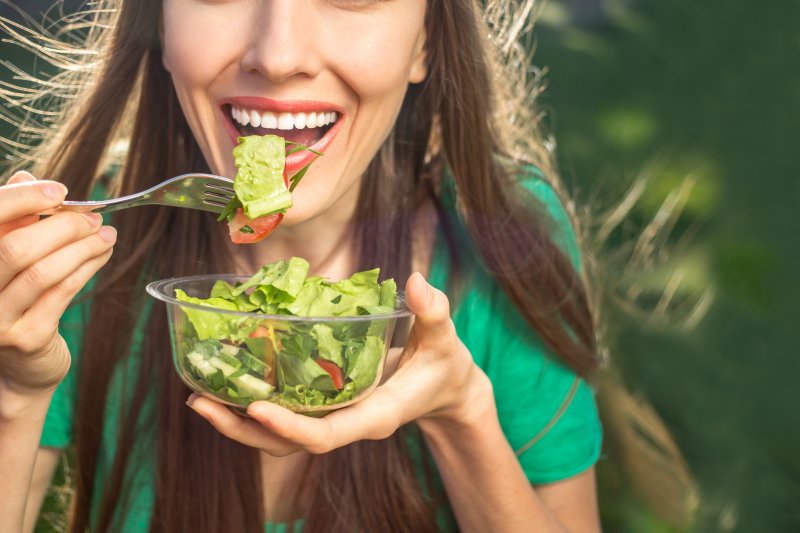 You may be, or have considered, following a plant-based diet for health or ethical reasons, such as animal welfare, environmental impact, or lowering cholesterol. Being vegan, or vegetarian, is a lifestyle that has become increasingly popular in recent years. As of 2021, 6% of U.S. consumers say they are vegan—a 6x (500%) increase compared to just 1% in 2014.
Veganism may seem like an overall healthier diet, but it can cause your bone health to suffer if you're not careful. When a diet is lacking protein and dairy, two of the five major food groups, it can increase the risk of dental problems. Read on to learn how veganism affects oral health and what you can do to maintain a healthy smile.
How Does a Vegan Diet Affect Your Teeth?
Nutritional Deficiencies
Studies suggest vegans are much more likely to experience dental problems than non-vegans. This can be attributed to the lack of vitamin D and calcium in a vegan diet.
Your body needs calcium to support healthy teeth and gums, and vitamin D is needed to absorb it. Dairy, fish, and eggs are excellent sources of both nutrients—unfortunately, those foods are not options for vegans. People following a plant-based diet must find alternative sources for these nutrients, such as soybeans, broccoli, almonds, or mushrooms, or else they risk causing harm to their teeth.
Lack of Amino Acids
Amino acids, often referred to as the building blocks of proteins, are compounds that have many critical roles in your body. You need 20 different amino acids to grow and function properly, though only nine are considered essential.
Arginine is an essential amino acid that can be found in meat, poultry, dairy, and fish. It's a critical part of your diet because it helps prevent cavities and gum disease by breaking down dental plaque. Plant-based alternatives that include amino acids are soy products, chickpeas, lentils, and pumpkin seeds.
Snacking
Non-vegans typically eat two to three well-balanced meals a day, sometimes more depending on their lifestyle. However, vegans and vegetarians tend to snack more often to meet their bodies' nutritional needs. Constant snacking is not good for dental health because the frequent contact of food with teeth puts people at a higher risk of plaque and cavities.
What Can You Do to Maintain a Healthy Mouth?
Outside of your diet, factors such as genetics, oral hygiene, and lifestyle can contribute to the state of your dental health. Here are some tips for following a plant-based diet while taking care of your teeth:
Make sure you're eating well-balanced meals that meet all your nutritional needs
Avoid frequent snacking and opt for healthy snacks (nuts, seeds, tofu, vegetables)
Reduce your intake of acidic and sugary foods
Establish a good oral hygiene regimen
Don't let your oral health suffer as a result of your diet! It's always best to consult with a health professional when making a lifestyle change to help keep your smile as healthy as possible.
About Eco Dental
Eco Dental has proudly served families in Southeast Texas for many years while making a conscious effort to reduce our carbon footprint. We take our impact on the environment very seriously, just like many vegans. Dr. Danny Nguyen and Dr. Cindy Hua are highly experienced and caring professionals who will make sure you always leave with a healthy smile and a happy heart. To consult with Dr. Nguyen or Dr. Hua about following a plant-based diet you can contact them via our website or by phone at (281) 491-9494.
Comments Off

on Can a Vegan Diet Be Bad for Your Oral Health?
No Comments
No comments yet.
RSS feed for comments on this post.
Sorry, the comment form is closed at this time.