June 24, 2021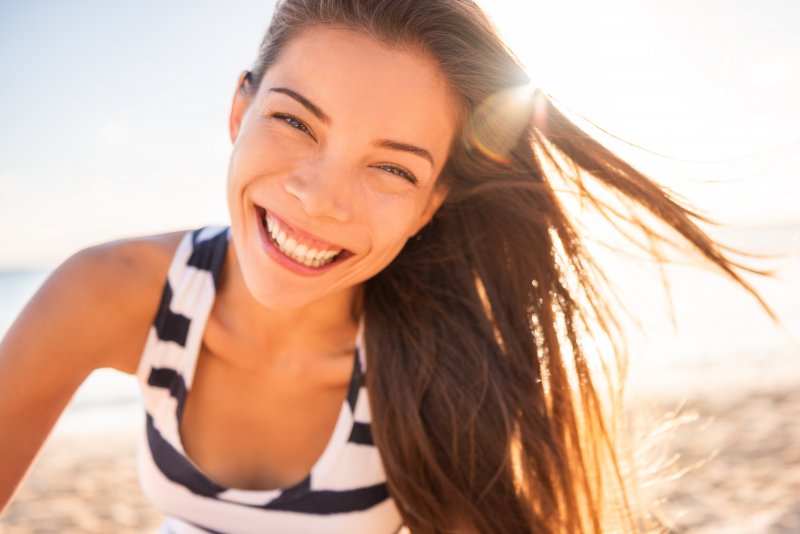 June is here, which means summer has officially arrived. Although you may be tempted to spend your time off inside to avoid the humidity, it is important to spend some time in the sun. After all, the rays don't just help with your tan, they also benefit your smile! Keep reading to learn all about the link between the sun and your oral health.
The Link Between the Sun and Your Oral Health
All it takes is a quick look at the research to see just how influential vitamin D is when it comes to your oral health. To start, Community Dentistry and Oral Epidemiology has found a link between lack of sunlight and gum health. Since an estimated one billion people are vitamin D deficient, it's not hard to see why more than 50% of adults struggle with gum disease. After all, this essential vitamin plays an important role in activating infection-fighting cells and keeping your teeth and bones healthy. So, it's easy to see why spending some time in the sun this summer is a good idea for you and your smile!
How to Protect Your Smile This Summer
Summer is meant for fun in the sun, not hours in your dentist's chair. To keep your smile in pristine condition throughout this beautiful season, make sure to:
Wear sunscreen and lip balm with SPF daily (this will help lower your risk of oral cancer).
Stay hydrated to prevent dry mouth.
Be mindful of your consumption of sugary foods and beverages, like soda and ice cream.
Maintain a consistent at-home oral hygiene routine.
Avoid unhealthy dental habits, like chewing on ice and smoking.
Visit your dentist for your bi-yearly appointment.
Schedule Your Checkup and Cleaning Before the Season Ends!
Although it's hard to believe, 2021 is already halfway through. If you have yet to schedule your first dental checkup and cleaning of the year, now is the time to do so! These routine appointments are an important part of catching dental problems in the early stages, preventing issues from developing in the future, and keeping your smile happy, healthy, and thriving.
Now you know how spending some time in the sun can benefit your oral health in the short and long term! Therefore, make sure to add "spending a few hours outdoors" to your list of summer to-dos.
About the Practice
At Eco Dental, we are proud to offer high-quality dentistry that is comfortable, enjoyable, and genuinely convenient. That's why we have two easy-to-find locations, offer convenient appointment times, and provide a wide array of services under one roof. For us, maintaining your smile throughout the years is a top priority, which is why we prioritize meticulous checkups and refreshing cleanings. If you are overdue for yours or would like more information on keeping your smile in pristine condition this summer, don't hesitate to visit our website or give us a call at 713-436-5655.
Comments Off

on Why Having Some Fun in the Sun Is Good for Your Smile!
No Comments
No comments yet.
RSS feed for comments on this post.
Sorry, the comment form is closed at this time.