July 9, 2021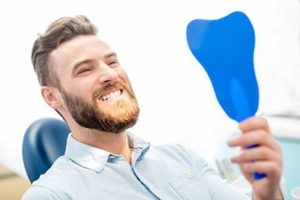 Tooth decay is the most prevalent oral health issue Americans face, despite being preventable. Although it's often believed to mainly affect children, the Centers for Disease Control and Prevention reports 26% of adults in the U.S. have an untreated cavity. Not to mention, 92% have had at least one in a permanent tooth. Besides your oral hygiene and a healthy diet, you might wonder, can adults get dental sealants? Yes! While they are commonly recommended for children, you're never too old to benefit from their protection to achieve a cavity-free smile.
What is a Dental Sealant?
Dental sealants have been used in preventive dentistry since the 1960s to protect cavity-prone teeth from decay, like the chewing surfaces of the back molars. The clear coating is painted on the tooth to create a barrier in the deep grooves and crevasses of the crown. After it has been applied, a special curing light is used to quickly harden it. In a matter of minutes, dental sealants can combat tooth decay using a pain-free procedure.
Who Can Benefit from Dental Sealants?
It is true dental sealants are widely used in pediatric dentistry, but that's not because they are ineffective for adults. Instead, children often have poor oral hygiene habits, making them more prone to decay. Not to mention, most dental insurances only cover them for patients under the age of 18. In reality, you're never too old for the procedure. Many adults are who have certain situations are candidates for sealants, such as:
Prevent Tooth Decay: Research shows dental sealants can prevent 80% of cavities for the first 2 years. Adults who are prone to decay or have weakened enamel can use sealants to lessen their risk.
Combat Aging: The biochemistry of your saliva changes as you age, and not in a good way. Sealants can help stop the clock to preserve your smile.
Your dentist will assess your oral health and learn more about your concerns to determine if dental sealants are the right option for you.
What is the Process Like?
You can stop cavity-causing bacteria from harming your smile using a simple treatment that only takes a few minutes. After your tooth has been cleaned, your dentist will apply a weak acid to texture your enamel, which also sterilizes it as it flows through the fissures. The dentist will rinse your tooth before applying the coating. Finally, a special light will quickly harden the sealant.
Maintain a Cavity-Free Smile
Dental sealants for adults are effective at preventing decay, but they aren't a substitute for brushing and flossing. Besides caring for your smile at home, don't forget to visit your dentist twice a year for a cleaning and checkup.
About Dr. Cindy Hua
Dr. Hua earned her dental degree at Nova Southeastern University before continuing her training in sedation dentistry. She strives to provide comfortable, comprehensive care for each patient through a focus on prevention. If you're ready to add the protection of dental sealants to your smile, contact our office today to schedule your consultation.
Comments Off

on Are You Too Old for Dental Sealants?
No Comments
No comments yet.
RSS feed for comments on this post.
Sorry, the comment form is closed at this time.