September 2, 2021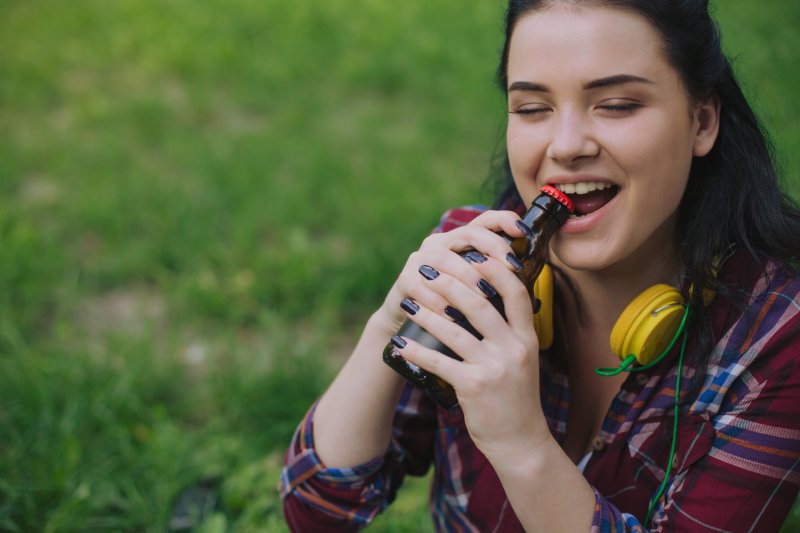 As one of the oldest and most widely consumed alcoholic beverages in the world, beer is the third most popular drink overall beaten only by water and tea. Though wine is notorious for leaving unsightly stains on your pearly whites, how does beer affect your teeth? Here are some of the ways beer impacts your teeth and how you can protect your smile from harm.
Why Beer Is Bad for Our Teeth
From stouts to IPAs, all beer is made by brewing a cereal grain, usually barley, that ferments to create a carbonated alcohol. Beer may be tasty, but it has several unwelcome effects on our teeth, including:
Tooth discoloration, especially from darker beers and those made from fruits like cherries and blackberries
Loss of tooth enamel over time due to beer's acidity
Gum disease from the sugars in beer mixing with the bacteria in your mouth to form plaque on your teeth
Chipped or cracked teeth from the cans and bottles beer comes in
How To Protect Your Teeth
While beer can lead to oral health issues, brushing, flossing, and seeing you dentist on a regular basis can go a long way in keeping your teeth strong despite drinking the occasional beer. Some other tips you can follow include:
Drink in moderation to avoid constantly exposing your teeth to the sugar and acid contained in beer
Chase it with a glass of water to wash away some of the acids and sugars
Never open bottles or cans with your teeth since this can chip, crack, or otherwise damage them
Benefits of Drinking Beer
With all of that in mind, beer can actually have some positive health benefits, too. Many craft beers are made from hops and barley with high levels of calcium which promotes strong teeth. Lighter ales and IPAs made locally with real, fresh ingredients generally offer the most calcium since the barley and hops are left unroasted during the brewing process. The yeast and good bacteria in beer can also kill off bad bacteria, therefore deterring the development of harmful microorganisms in the mouth.
Whether you're drinking beer for the flavor or for the benefits it can have on your teeth, remember to do so in moderation. Drink responsibly and keep up with your dental hygiene so you can continue enjoying your favorite alcoholic beverage for years to come!
About the Practice
Dr. Cindy Hua, Dr. Danny Nguyen, and the Eco Dental team provide an array of dental services to Sugarland, Pearland, and the surrounding communities. They have created a comfortable office environment for their patients and use planet-friendly materials to do their part to care for our home. With convenient hours that fit your busy schedule, Eco Dental is the right choice for both your teeth and the planet. For more information on the impacts of beer on your oral health, call our Sugarland office at (281) 491-9494, our Pearland office at (713) 436-5655, or visit our website.
Comments Off

on How Does Beer Affect Your Teeth?
No Comments
No comments yet.
RSS feed for comments on this post.
Sorry, the comment form is closed at this time.