November 6, 2021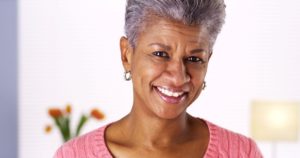 If you're ready to replace your missing teeth permanently, an implant denture is the solution for you. You can have a complete smile again in just one day with All-On-4. Fewer posts are used to support your denture without compromising the benefits. Best of all, you won't go without any teeth while your jawbone heals. You'll walk out of your All-On-4 surgery with a nearly perfect replica of your real teeth, but you won't be having steak for dinner. Here's what you need to know about eating and drinking after your procedure.
Recovering from All-On-4 Surgery
As with any surgical procedure, there are a few symptoms you can expect post-opt, which can include:
Pain and tenderness can be managed with a prescribed or OTC pain reliever.
Facial swelling and bruising for a few days, but a cold compress can reduce the symptoms.
Bleeding can occur for the first 24 to 48 hours; however, it will decrease daily.
Your dentist will recommend activity limitations for the first week or two.
You must follow dietary restrictions to avoid compromising the success of the procedure.
Eating and Drinking Post-Op
Although you'll be excited to enjoy your favorite foods again, you'll want to watch what you eat and drink until your mouth has healed. By following your dentist's aftercare instructions during your All-On-4 recovery, you can avoid many preventable complications. While everyone heals at a different rate, you can expect your dietary restrictions to include:
Liquid Diet for 1-2 Weeks Post-Op
You'll have to follow a liquid diet for a week or two because your mouth, throat, and jaw will be sore. As the pain and inflammation improve, you can switch to soft foods. However, until that time, don't use a straw for any liquids to prevent dry socket, a painful condition caused by the blood clot dislodging too soon. You will also want to skip any hot, spicy, or acidic foods or beverages. Smoothies and soups will keep you nourished, and don't forget to drink plenty of water to stay hydrated.
Soft Foods for 2 Weeks-2 Months Post-Op
As your symptoms improve, you can transition to soft foods, but you should never eat those that are hard, chewy, or crunchy. You want to choose those that require minimal chewing, like yogurt, applesauce, mashed potatoes, eggs, and cheese. As your bone integrates with the posts, you can resume your regular diet.
Enjoy Unmatched Stability
After your jawbone has fused to the implant posts, you'll regain up to 70% of your natural biting force. You'll be able to eat all your favorite foods again, including steak. If you have any questions about your diet post-op, don't hesitate to contact your dental office.
About Dr. Danny Nguyen
Dr. Nguyen earned his dental degree from the UT Health Science Center of Houston and has completed hundreds of hours of continuing education in advanced specialties. He offers the latest solutions to treat the most complex cases of tooth loss. If you're ready to rebuild your smile in a day, contact our office to schedule your All-On-4 consultation.
Comments Off

on Eating & Drinking After All-On-4 Surgery
No Comments
No comments yet.
RSS feed for comments on this post.
Sorry, the comment form is closed at this time.