May 16, 2022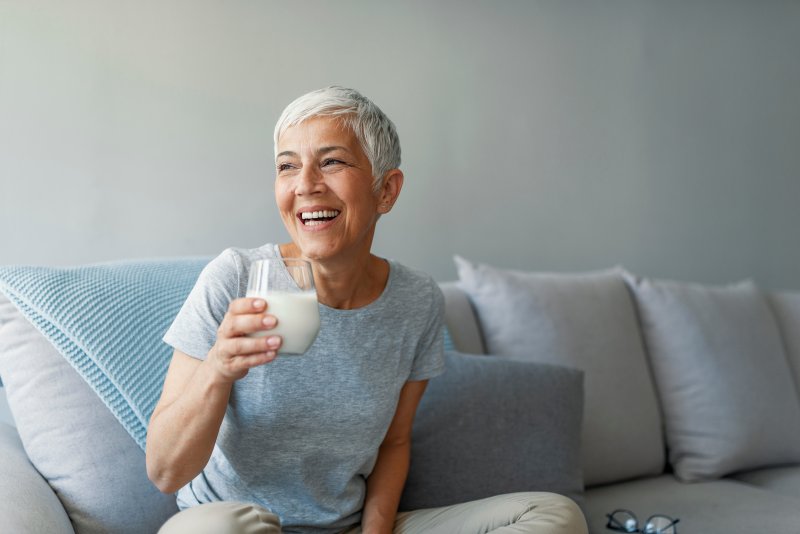 One of the best methods for replacing missing teeth is dental implants. Not only will they restore your smile, but you can expect them to last a lifetime with proper care! However, the treatment can become challenging if you've been through menopause. Read on to learn how your smile and the success of your dental implants can be affected following this transition.
How Does Menopause Affect Dental Health?
Menopause lowers your estrogen levels—an essential hormone for bone health. For this reason, postmenopausal women have an increased risk of osteoporosis, which causes the bones to be less dense and more brittle. Your body can also become more susceptible to other health conditions, such as gum disease, dry mouth, and heart disease.
For dental implants to work, they first require you to have a sufficient amount of healthy jawbone. If you have missing teeth, then you won't have the stimulation necessary for blood flow to promote enough strong tissue in the area. This means your jawbone will be less able to support your pearly whites, much less your dental implants. While postmenopausal women may have a higher risk of treatment failure, you can still take certain measures to boost your chances, like maintaining good dental hygiene and avoiding tobacco products.
Can You Still Get Dental Implants After Menopause?
If you're considering getting dental implants after menopause, then you may need to go through certain procedures to improve your success rate. Many women go through hormone replacement therapy (HRT) to relieve hot flashes and other unpleasant conditions. This treatment can also aid in preventing bone loss, making dental implants more likely to fuse to the jawbone effectively. Some studies have suggested that HRT can also reduce your chances of gum disease, which is one of the main reasons an implant can fail.
By undergoing HRT, it's still possible for you to get dental implants after menopause. To be sure of this, you should consult your dentist as well as your primary care physician. Together, they can assess your situation and determine if you're a good candidate for dental implants and HRT. Be sure to also maintain proper dental hygiene, a well-balanced diet, and schedule routine checkups to preserve good dental and overall health in the long run!
About the Author
Dr. Danny Nguyen received his dental degree from the University of Texas Health Science Center of Houston. He's also pursued countless hours of continuing education courses to refine his skills so that his patients receive the high-quality care they deserve. He provides a wide selection of advanced treatments, including dental implants, and can work with other professionals to help you achieve your best dental health. If you'd like to schedule a consultation, feel free to visit our website or call 281-491-9494.
Comments Off

on Can You Get Dental Implants After Menopause?
No Comments
No comments yet.
RSS feed for comments on this post.
Sorry, the comment form is closed at this time.