July 29, 2022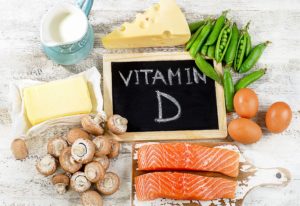 More than 500,000 people annually are choosing dental implants to replace their lost teeth. With over a 95% success rate, they are proven to last for decades with the right care. Not to mention, they are nearly perfect replicas of your real teeth. Various factors contribute to the lifespan of a dental implant. Brushing, flossing, and regular dental care can safeguard your new smile from failure, but is there more you could be doing? Yes! Believe it or not, spending a few minutes outdoors can protect your investment. Here's how vitamin D can ensure your dental implants last for a lifetime.
Vitamin D and Dental Implants
Vitamin D is a fat soluble vitamin that's found in certain foods; however, the most abundant source is the sun. Ultraviolet B (UVB) rays interact with a protein when your skin is exposed to sunlight. Your body converts into vitamin D, which is necessary for strong bones and a healthy immune system – both of which are crucial for dental implant success.
A dental implant is unique because it recreates the root and the crown. A post is surgically placed into your jaw to serve as a root. You must have the adequate bone density to support the post, which your jaw will fuse to through a process called osseointegration. If you're deficient in vitamin D, your bones may be weak or you can experience delayed healing.
Besides integration with your bone, the overall success of dental implants relies on keeping your smile healthy. A common cause of dental implant failure is an infection called peri-implantitis. Brushing and flossing can keep the infection at bay; however, your immune system is also crucial for fighting harmful pathogens. Vitamin D supports immune cell activity to control infections and inflammation.
Protect Your Smile with Vitamin D
Although vitamin D isn't the only component to the success of the procedure, you lower your risk of complications by spending 10 to 20 minutes outside daily. A supplement can also ensure you aren't vitamin deficient, as well as adding vitamin D fortified dairy products and fish to your diet, like halibut or cod.
Combine a healthy lifestyle with the right oral hygiene habits at home. Brushing, flossing, and using a daily mouthwash will keep your smile healthy in between regular appointments with your dentist. A cleaning and checkup every 6 months allows your dentist to monitor your smile to detect anything concerning quickly. You can feel confident you will enjoy a complete, beautiful smile for many years.
About Dr. Danny Nguyen
Dr. Nguyen earned his dental degree from the UT Health Science Center of Houston and has completed hundreds of hours of continuing education in advanced treatments, like dental implants. He strives to improve each patient's quality of life through a beautiful, healthy smile. If you are ready to replace your missing teeth, contact our office today to schedule your consultation for dental implants.
Comments Off

on Is Vitamin D the Secret to Dental Implant Success?
No Comments
No comments yet.
RSS feed for comments on this post.
Sorry, the comment form is closed at this time.