August 22, 2022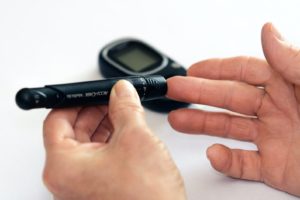 According to the Centers for Disease Control and Prevention, 1 in 10 adults has diabetes. The condition affects the body's ability to regulate blood glucose, which can have negative consequences for your health and quality of life with no treatment. However, your dental health is also at risk. Diabetics have 15% more tooth loss than those without the condition. It's easy to manage diabetes with medications and a healthy lifestyle, but if you weren't able to avoid tooth loss, you have several options to replace your missing teeth. Besides bridges and dentures, dental implants can also treat lost teeth. As the only method of creating the root and crown, they are the next best thing to your real teeth, but are dental implants safe for diabetics?
Diabetes and Dental Implants
A dental implant is unlike any other treatment because it rebuilds the entire tooth from the root up. A titanium post is placed into the bone to mimic a root. The overall success of the procedure relies on your bone fusing to the implant through a process called osseointegration. After the bone has healed, an abutment is placed on the post to connect a custom-made restoration.
Dental implants have over a 95% success rate. The most vital components to their success are a strong bond with your bone and infection prevention. Although diabetics have an increased risk of healing complications and infections, that doesn't mean you can't get dental implants.
A 2016 systematic review of research involving diabetics and diabetes reports, "When diabetes is under well control, implant procedures are safe and predictable with a complications rate similar to that of healthy patients." With the risk of implant failure less than 5%, you can invest in a complete smile using the best dentistry has to offer.
Are Dental Implants Right for Me?
Your dentist will conduct a comprehensive consultation to ensure dental implants are safe for you. Besides examining your mouth, they'll learn more about your health and any medications you're taking. They'll also review a CT scan of your oral structures to look for any concerns hiding below the surface, like bone loss or infections.
Based on the results of your consultation, your dentist will create a personalized treatment plan to rebuild your smile. It's not uncommon for diabetics to require a little prep work, like gum disease therapy, tooth extractions, or bone grafting.
With a healthy foundation and a strong oral hygiene routine, your dental implants can last for 30 years or longer. Don't let diabetes prevent you from treating your missing teeth. Your dentist has safe solutions you need to look and feel your best.
About Dr. Danny Nguyen
Dr. Nguyen earned his dental degree from the UT Health Science Center of Houston and continued his education in advanced studies, like dental implants. With over 2 decades of experience, he has the training and qualifications you can trust to rehabilitate your smile. Contact our office today to request your consultation for dental implants.
Comments Off

on Can Diabetics Be Candidates for Dental Implants?
No Comments
No comments yet.
RSS feed for comments on this post.
Sorry, the comment form is closed at this time.