September 7, 2022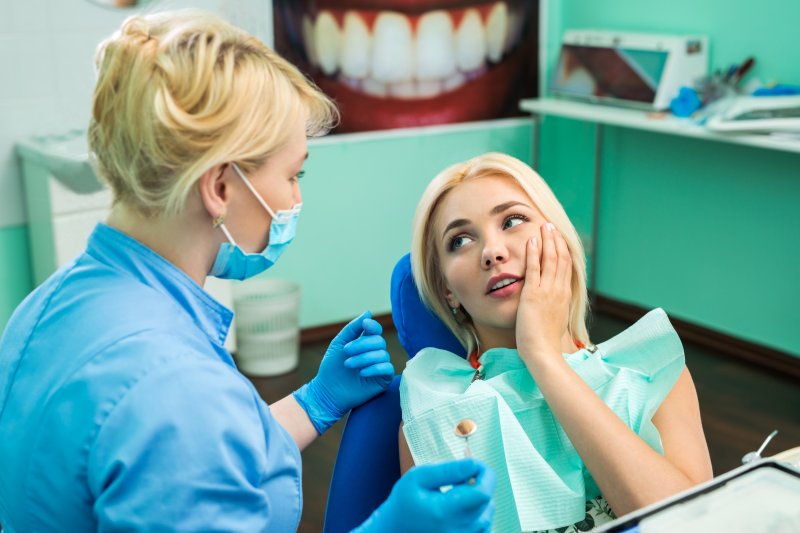 Even if it's dangerous, a dental emergency usually involves common problems. In other words, it might stem from a toothache, a chipped tooth, or some knocked-out teeth. However, sometimes the emergency can get really weird. In fact, there have been patients who had dental issues that are hard to believe. If you want proof, take it from your local Sugarland dentist. Read on to learn five dental emergencies that turned pretty strange pretty quickly.
The Palate with a Hole in It
In one case, a man discovered a hole in his palate — the roof of his mouth. Now, ordinarily, you'd see a dentist for such an issue. Him, though? He decided to "fix" the problem by putting wads of tissue in the space.
As you might imagine, the would-be solution didn't help. The tissue wads led the man to develop a nasty infection, requiring him to (finally!) see his dentist for emergency care.
Blooming Tartar
Another person's emergency stemmed from poor hygiene. His tartar buildup had gotten so bad that it created a bridge between his teeth and gums!
When he first noticed this development, he tried to remove the buildup by aggressively brushing his teeth. Unfortunately, this act only resulted in nearly all his teeth falling out.
Denture Repair
An older woman once had a strange dental emergency involving her dentures. She saw her dentist for a seemingly normal denture repair, but the problem was rather abnormal.
As it turns out, she'd left her dentures in her mouth for months! This habit created an awful smell and infected her gums, not to mention led to the repairs being needed in the first place.
A "Jaw Breaker"
Sometimes the strangeness of a dental emergency takes place during treatment. You see, a dentist once mistakenly broke a patient's jaw while in the middle of tooth extraction. The result? Said patient had their jaw wired shut for two months.
Maggot Infestation
Last but not least, one emergency started with a young boy rubbing his swollen mouth. Feeling concerned, his parents then took him to the dentist for the first time. What they discovered, however, likely made them regret not getting him dental care sooner.
You see, there were maggots hiding inside the boy's mouth. Needless to say, the parents and child needed some dental hygiene tips going forward.
With enough luck, you should be able to avoid emergencies like those above. Just to be safe, though, remember to practice your oral hygiene routines daily!
About the Practice
Eco Dental is based in Sugarland, TX. As led by Drs. Danny Nguyen and Cindy Hua, our practice combines stellar care with a comfortable patient experience. That said, we offer high-quality preventive, cosmetic, and restorative dental treatments — including procedures for dental emergencies! Alongside these services, you'll also benefit from our state-of-the-art tools that make visits faster and safer! For more information or to book an appointment, you can reach us on our website or by phone at (281)-491-9494.
Comments Off

on 5 Dental Emergencies That Turned Pretty Strange
No Comments
No comments yet.
RSS feed for comments on this post.
Sorry, the comment form is closed at this time.