August 4, 2021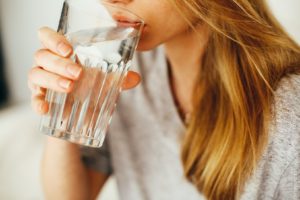 You know you need to drink plenty of water to stay hydrated, but your smile also needs it. Your body relies on at least 8 glasses of water daily; however, the amount can increase in heat, while exercising, or enjoying an alcoholic drink. While you can get your recommended daily water intake through other beverages, nothing is better for your teeth and gums than a cool glass of H2O. Here are 3 oral health benefits of staying hydrated.
Water and a Healthy Smile
Your body is made of at least 60% water, which is necessary to ensure each system is functioning correctly. Sipping a glass of water offers other benefits as well. Here's how drinking more water can give your oral health a boost:
1. Keeps Your Mouth Clean
All day and night, your teeth and gums are attacked by sugars, plaque, and bacteria that can lead to common dental issues, like tooth decay. The American Dental Association recommends brushing your teeth at least twice daily and flossing nightly to lower your risk of preventable problems, but that still leaves plenty of time for your smile to be exposed to cavity-causing bacteria.
Water helps cleanse your teeth between brushing and flossing by washing away food particles and bacteria. It also keeps your mouth moist to neutralize the growth of bad bacteria. This is especially important for patients who suffer from dry mouth.
2. It's Calories-Free
You don't need to worry about water adding extra weight to your waistline or damaging your enamel. It is sugarless and calorie-free, so you won't be at risk of the health consequences of weight gain. Not to mention, you'll have added security knowing you aren't compromising your teeth every time you get a drink.
Life can be a little bland if you only drink water. You can add a splash of flavor by cutting up fruit pieces to put in your glass. It will satisfy your sweet tooth without the risks of juices, sodas, or sports drinks.
3. Fights Dry Mouth
You likely don't think about your saliva very often, but it's crucial for a healthy smile and aids with digestion. If your mouth is too dry, the dark environment creates the perfect breeding ground for bacteria responsible for tooth decay and gum disease. The lack of saliva and increased bacteria can also lead to chronic bad breath.
You can skip the embarrassment of halitosis while keeping cavities and infections at bay by adding more H2O to your daily routine. From a healthy body to an attractive smile, you'll look and feel your best by choosing the planet's biggest natural resource to stay hydrated.
About Dr. Cindy Hua
Dr. Hua earned her dental degree at Nova Southeastern University before continuing her training in sedation dentistry. She strives to provide comfortable dental care to help her patients reach optimal wellness. If it's time for your next cleaning and checkup, contact our office today to schedule an appointment.
Comments Off

on Why is Water Important for Oral Health?
No Comments
No comments yet.
RSS feed for comments on this post.
Sorry, the comment form is closed at this time.